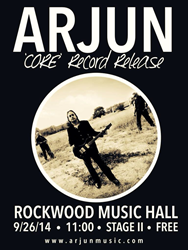 "Within minutes, a cardboard box that sat on the edge of the stage was emptied of CDs and full of cash." - Feast of Music (Live review of Arjun)
New York, NY (PRWEB) September 16, 2014
New York's own ARJUN is continuing to push musical boundaries with a new album to be released September 26th at Rockwood Music Hall. Prior to the release of the album Core, the group released the track "Core," the new single featuring John Medeski (Medeski Martin & Wood) on August 26.
ARJUN releases Core
Friday, September 26th
Rockwood Music Hall
196 Allen Street (between East Houston St & Stanton St)
New York, NY
11PM (Free Admission)
Since forming in 2003, the instrumental trio has specialized in delivering a diverse palette of music that emphasizes a fusion of rock and improvisational jazz. ARJUN's sound is comprised of Eddie Arjun Peters on guitar, Lamar Myers on drums, and Andre Lyles on bass. After signing with Pheromone Records, the group has continued to showcase their chops since their debut Pieces and its follow-up Space. Their repertoire stands as a testament to the level of musicianship and talent that listeners can expect on the new album.
With thought-provoking and emotional grooves throughout, there's a distinct chemistry within the trio that creates a unique blend of sounds that are difficult to categorize. Influences including Jeff Beck, Weather Report, Charlie Hunter, Pink Floyd, Radiohead, and Stevie Ray Vaughn are quickly apparent when listening to ARJUN. With a tendency towards heavy grooves and tasty guitar licks, the group never seems to fail to react to the divergent sounds and creative contributions from each member. This leads the listener on a journey within each song. "Core" in particular is a track that showcases a high level of communication within the group in addition to the textures provided by John Medeski's expertise on keys. Despite the trio's impressive chops on their designated instruments, there is a unified understanding and focus on the musical progression above all other aspects of the group's sound.
"Core" was recorded at Level 11 Studios, New York, NY and Brooklyn, NY by Andre Pilette and Eddie Arjun Peters, and at Terrapin Crossroads, San Rafael, CA by Ian Dubois & Alex Jarvey. The album was mixed by Scotty Hard at Duro of Brooklyn, Brooklyn, NY, and was mastered by Michael Fossenkemper at Turtletone Mastering, New York, NY.
For more information, images, or to arrange for an interview with ARJUN, please contact Melissa Zeigler at Powderfinger Promotions: melissa(at)powderfingerpromo(dot)com.
Powderfinger Promotions–Independent Radio Promotion and Publicity. Since being founded in October 1994, Powderfinger has come to be regarded as a top indie radio promotion and publicity firm with ties across North America.