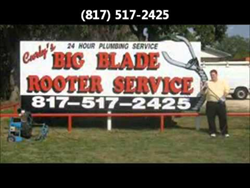 We are very proud of our Arlington plumber reviews and the reputation we have built and we want everybody to know that we treat everyone like we would treat our mother
Arlington, TX (PRWEB) May 01, 2014
Arlington plumbers at Curly's Big Blade are now offering service discounts to save consumers money this summer. In addition to providing service discounts Curly's Big Blade Rooter Service is also offering a $10 off coupon which can be used for any service over $100 and $10 off drain cleaning. They are also providing up front pricing to make it easy for consumers to know what they are getting into before agreeing to Arlington repair services. "We are offering this service discount for $10 off so everybody can afford the best service provider," says Curly, Owner of Curly's Big Blade Rooter Service. They can have an experienced Arlington technician on site within an hour in most cases according to Curly. "If the drain is backed up or the hot water isn't working the need for a fast Arlington plumber is immediate. Our goal is to make all of our Texas customers 100% happy."
Plumbers in Arlington Texas at Curly's Big Blade are also offering other coupons in addition to the $10 off Arlington plumbing service discount. They are offering drain cleaning for $149.50 when a proper clean out is present. Curly's is also offering a new water heater installation special where they will install a new electric water heater for $25 off. A quick search for Arlington plumber reviews on Google reveals that many people feel gouged by the plumber they hire. "We strive for 100% complete customer satisfaction because 90% of our customers are repeat customers. We know if we treat people right they will come back to us for all of their repair and service needs," says Curly.
Curly's also offers specialized services such as sewer repair and hydro-jetting, these technologies are used to fix and replacement main sewer laterals. "Most small plumbers in Arlington don't have the specialized equipment we have to do the jobs we do. We invest in the best equipment so we can get the job done quickly, which saves our customers money," says Curly. A lot of the calls Curly's Big Blade Plumbing and Rooter Service gets are from people who have been quoted a job by another plumber, but they want a second opinion. "We are happy to provide people with competitive quotes for plumbing service. We provide no cost second opinions."
One of the most popular Arlington drain cleaning service discounts currently being offered by Curly's Big Blade Rooter Service is their $149.50 drain cleaning coupon. "Every time we offer a drain cleaning coupon we get a huge response. A lot of the calls we get are from people who called another company out for service and the price much higher than advertised," says Curly.
Curly's Big Blade Plumbing and Rooter Service is also currently offering a coupon for $25 off of a new tankless water heater installation in Arlington. The coupon is applicable to removal of the old water, installation of the new water heater and any associated water or gas lines required by code. "When the hot water isn't working people usually want to get it fixed as quickly as possible but they don't want to get gouged. We send an experienced technician on site. Our goal is to see if we can do water heater repair before just replacing it. If a new water heater is needed or the customer wants to upgrade to a tankless hot water heater we provide a no cost estimate for the installation," says Curly.
Curly's Big Blade Plumbing and Rooter Service also handles Arlington leak detection. In situations where a slab leak is suspected advanced machinery is required to determine exactly where the leak is. If the leak location is off even slightly then more demolition is being done than is required. Curly's Big Blade Plumbing and Rooter Service employs Arlington leak detection and repair experts.
Curly's Big Blade Plumbing and Rooter Service has many positive online Arlington plumber reviews. Many consumers have left reviews on their Google+ page as well as other Arlington plumbing review sites like Yelp and Yellow Pages.com. "We are very proud of our Arlington plumber reviews and the reputation we have built and we want everybody to know that we treat everyone like we would treat our mother," says Curly.
To learn more about water heater repair in Arlington or the plumbers at Curly's Big Blade Plumbing and Rooter Service visit their website, watch their videos, read their press releases or read their many positive online plumber reviews on respected consumer review sites like Google, Yahoo, Yelp and Angie's List for plumbing companies in Arlington.