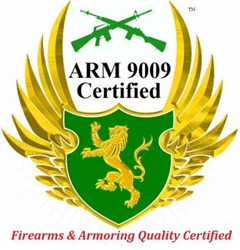 "For the firearms and armoring industry, ARM 9009 is far superior to ISO 9001:2008 because its quality standards are focused specifically on those industries." - Jim Davidson, President - Industrial Leaders Group
New York, NY (PRWEB) October 08, 2014
For the Firearms and Armored products business, whether it be rifles, revolvers, pistols, armored vehicles or body armor, quality is essential to ensure the most accurate and reliable performance for gun owners and customers of armoring systems. All manufacturers, suppliers, subcontractors involved in manufacturing firearms or armored systems must be accredited to ARM-9009:2013 standards (http://aboac.org/arm-90092013) overseen by the American Board of Accredited Certifications (ABAC) which is the world's leading firearms and armoring accreditation & certification body, and the only designated quality management registration with this specific designation.
"While ISO 9001:2008 is based on requirements that are intended to be a 'one size fits all' set of standards for many different industries, ARM 9009:2013 system accreditation is based on highly specialized standards that have been universally accepted as a mandatory requirement for suppliers, subcontractors, manufacturers of all firearms and armoring type materials, hardware, adhesives, fasteners, metals, plastics, glass, composites, ceramics as well as related materials and processes used in conjunction for the manufacture of firearms, vehicles, aerospace and body armor," said Henry Kroger, Chairman of the Board of Advisers for ABAC. He added, "ARM-9009 certification is solely administered by G-PMC Registrars, LLC and is accredited by the internationally recognized Industrial Leaders Group (ILG)."
According to G-PMC Registrars, which has been authorized among other qualified registrars to issue ARM 9009 certifications, all audits are system-specific and precisely comprehensive to the firearms and armoring industry. Kroger said ARM 9009 should not be in anyway confused with ISO, AS, TS designations or ANAB/ANSI requirements, since the ARM standard is a a system specific, standalone and accredited as such. "ARM-9009 is significantly superior to ISO 9001:2008 because of its focus on the firearms and armoring industry," said Jim Davidson, Director of Accreditation for ILG. He concluded, "Due to the nature of the industry, importance of materials, manufacturing processes and security, ARM 9009 certification requires specialized audits against specific requirements, quality and delivery metrics, which is why the certification has been internationally accepted as the standard quality assurance program for firearms and armoring suppliers."
About American Board of Accredited Certifications (ABAC)
The American Board of Accredited Certifications (http://aboac.org/) was founded by a group of quality professionals in 2003 with roots dating back to 1993. Today, ABAC is the leading independent accreditation board in the United States with association members, signatories, regional accreditation groups, and international observer organizations. With corporate headquarters on Madison Avenue, New York City, ABAC was created out of necessity to bring an independent oversight impartial of numerous so-called "official" accreditation boards such as ANAB® (ANSI-ASQ National Accreditation Board), International Accreditation Forum (IAF) and their subsidiaries. ABAC oversees accreditation and certification bodies assuring integrity, competency, and fair competition in the quality community. ABAC accredits certifications based on the fundamental principles of accountability, ethical conduct, and commitment to quality.
About G-PMC Registrars, LLC
G-PMC Registrars, LLC (http://www.g-pmc.com) is a registrar that carries a distinct accreditation and a distinct mission compared to the accepted norms in the world of quality. G-PMC is a a single accredited registrar, which means better adherence to standards and practices to issue certifications to customers. The customer will not only have better protocol, but just as important, real service and support, because of G-PMC's, unique position and characteristics in the quality industry. This means G-PMC has the authority to register organizations, recognizing them for their Quality Management System's(QMS) integrity and in addition truly 'Adding Value' to a company and/or corporation.
For the original version on IndustrialPR visit:http:// http://www.industrialpr.net/news/classified.php?listing=14009
This news release was distributed by IndustrialPR.net