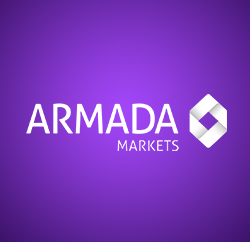 ... around 60-70% of our new clients find us through word of mouth.
(PRWEB) October 08, 2014
Despite the record low volatility during the first 6 months of 2014 Armada Markets reported a solid net profit of 0.87 million Euros for the period. This follows the audited net profit of 1.37 million Euros for fiscal 2013. The company continued to grow in all financial metrics it tracks. Armada Markets also reported a record monthly trading volume of 20.5 billion US dollars in September.
During 2014 the company has continued to grow strongly in terms of the Client numbers, average monthly trading volumes and active markets where it participates. Majority of Armada Markets' revenues are derived from Asia Pacific region where it enjoys a lot of interests from professional FX and spot gold traders. Such traders demand consistently low spreads and low commissions coupled with a trading environment which has no restrictions on strategies that Clients use. The company calls its Clients "Smart Traders".
In par with recent pick-up of volatility in FX the company today also reported a record monthly trading volume for September of 20.5 billion US dollars which is a growth of almost 100% compared to September, 2013. The company expects to reach monthly trading volume of 25-35 billion US dollars within the next 6-9 months.
Ingmar Mattus, CEO of Armada Markets said: "I am delighted to see such a consistent growth for Armada Markets in all of the key metrics and was especially glad that our profitability wasn't affected by the less volatile markets during H1 of 2014. I believe that at times of lower volatility the execution quality and low trading costs become absolutely critical for all traders and we were able to prove our case for so many new clients during H1 of 2014."
Illimar Mattus, CFO of Armada Markets said: "We started Armada Markets in 2011 with a mission to provide the best possible trading conditions. This approach has proven to be successful as illustrated by our financial results and the fact that around 60-70% of our new Clients find us through word of mouth. In 2014 we have seen not only more Clients and higher trading volumes but we have also added 9 new Client-oriented professionals to our global staff of 32 people. We will be hiring an additional 10-15 people over the next 6 months to service our Clients and to introduce 2 new subsidiaries."
Dmitri Litvinovich, Head of Business Development of Armada Markets had this to say: "It is a fact that our Clients enjoy the lowest cost of trading in the world when it comes to commissions combined with truely tight and executable market spreads, all in a low-latency trading environment. These very competitive conditions improve significantly our Clients' profitability which leads to higher average trading volume on a per client basis. This in turn means also more revenue for the company over the long-term. Every member of our team is extremely excited about the future as many new products will be launched over the coming months."
Notes to Media
About Armada Markets AS (Armada Markets)
With its headquarters in Tallinn, Estonia, Armada Markets provides online spot Forex trading services to professional retail and institutional Clients in close to 140 countries. Armada Markets focuses on providing one of the most competitive spot Forex trading conditions in the world with ultra-low spreads and high quality trade execution. Armada Markets is proud to serve its Clients 24/7 in 7 languages.
Trading foreign exchange on margin carries a high level of risk and may not be suitable for everybody.
For more information please visit http://www.armadamarkets.com or by phone on +372 686 3163.