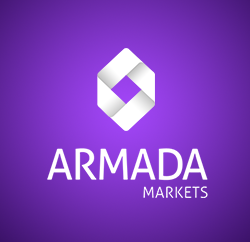 I believe our Clients can discover first hand how important it is to trade with low spreads and commissions and how it positively affects profitability.
(PRWEB) November 04, 2014
Armada Markets reported a record $23.3 billion trading volume for October which is 103% higher compared to October 2013 and 14% higher compared to the previous month. The Company sees the growth being supported by continued elevated volatility on all financial markets and strong growth in client numbers from the Asia Pacific region. Armada Markets also continues to show strong profitability with Q3 net profit coming in at $0.68 million on top of $1.10 million earned in H1 of 2014. The Company expects the annual 2014 net profit to reach $2.4 - $2.7 million.
The Company also shed some light on the mix of Clients reporting that in October 2014 its top 100 Clients accounted for 64.9% of the total trading volume whereas the most active Client accounted for 3.3% of total trading volume. Armada Markets has mostly attracted smart retail and institutional Clients who demand very low spreads, low commissions and a trading environment with fast execution and no broker-imposed restrictions on profitability. The Company calls its Clients "Smart Traders".
October was an unusually eventful month in financial markets with the Federal Reserve completing its Quantitative Easing program while the European Central Bank started its ABS purchasing program and the Bank of Japan increased its stimulus efforts. During the month, Armada Markets Clients were actively using the opportunities presented by the collapse of Japanese Yen, Russian Ruble and the breach of $1,180 support level in gold. As a result of increased volatility and growing client numbers the Company expects to reach a monthly trading volume of $25 - $35 billion within the next 6-9 months.
Ingmar Mattus, CEO of Armada Markets said: "Our Clients and the whole team are delighted to see that volatility has finally returned to the spot FX markets and as the Fed has completed its QE program then I believe the volatility is here to stay. As with higher volatility the Clients on average trade more then I believe they can discover first hand how important it is to trade with low spreads and commissions and how it positively affects profitability."
Illimar Mattus, CFO of Armada Markets said: "The positive financial results of Armada Markets are something we have expected and it is well-received also by our Clients who want to see that they are dealing with a well-managed and a growing brokerage firm. We have been capitalizing on this growth by investing into IT and infrastructure and expanding our team. In October we increased our global workforce by 9% and going forward continue to look for talented people."
Notes to Media
About Armada Markets AS (Armada Markets)
With its headquarters in Tallinn, Estonia, Armada Markets provides online spot Forex trading services to professional retail and institutional Clients in close to 140 countries. Armada Markets focuses on providing one of the most competitive spot Forex trading conditions in the world with ultra-low spreads and high quality trade execution. Armada Markets is proud to serve its Clients 24/7 in 7 languages.
Trading foreign exchange on margin carries a high level of risk and may not be suitable for everybody.
For more information please visit http://www.armadamarkets.com or by phone on +372 686 3163.