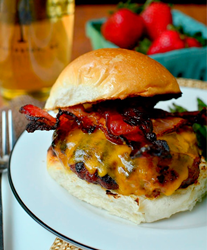 An edible tribute to Armed Forces should be intense with flavor and classically American. says Brett Black COO
Devault, Pennsylvania (PRWEB) September 01, 2016
As the Labor Day holiday approaches, the Devault Kitchen Magician team unveiled some favorite Devault dishes. The purpose is to share appreciation for those Americans who contribute every day to the strength, prosperity and well-being of our country. "Specific recipes and tips released over the last few weeks are to express appreciation for some of the hardest working in the country", says Brett Black, Chief Operating Officer. "In this the final installment, the Devault Foods family wants to honor those who are giving the most- the men and women of the Armed Forces."
The brave men and women who serve the country give selflessly to protect the rights and safety of fellow countrymen but also the citizens in the places they serve. The United States has been at war for about 15 years. Almost all active Forces volunteered knowing that they will serve during war time. Many are exposed to risks far beyond what are encountered in civilian life.
"The Kitchen Magician team felt that a fitting edible tribute should be intense with flavor and classically American." continues Brett Black "The Bourbon-Brown Sugar Glazed Bacon, Cheddar Burger was enlisted to do the trick."
Bourbon-Brown Sugar Glazed Bacon, Cheddar Cheese Burger
Devault Signature Beef or Chicken Burgers
1lb Thick Cut Bacon
Sharp Cheddar Cheese
Classic Burger buns
Optional: Lettuce, Sliced Tomato, Slice Onion
For the Bourbon-Brown Sugar Glaze:
2 Tbl dark brown sugar
2 Tbl butter
2 Tbl bourbon
2 Tbl water
To make the glaze: Combine the brown sugar and butter in a small sauce pot over medium-high heat. Cook, stirring occasionally, until butter is melted and sugar is dissolved. Add bourbon and stir. Add water and bring to a boil. Simmer 1 minute, stirring constantly. Remove from the heat.
To cook bacon: Preheat the oven to 450 degrees. Place bacon slices on a cookie sheet. Brush the glaze over each slice of bacon. Place the tray in the oven for 12 minutes. Remove the tray from the oven. Flip the bacon over. Brush bacon with the glaze and return to the oven for 12 minutes or until crisp. Remove tray from the oven and place bacon onto a wire rack to cool. Bacon can be made in the morning and stored in a room temperature, dry container until grilling time.
To cook burgers: Prepare grill. Place burgers on the grill and cook to desired temperature. Place burger buns open side down on the grill to toast the roll. When gently brown, remove the burger buns. Place a cooked burger on the bun, top with a slice of sharp cheddar cheese and a folded slice or two of glazed bacon. Serve and enjoy!
To find all of the recipes in this series, visit Devault Foods' profile on LinkedIn, http://bit.ly/2b0Lxm1 or Facebook page, http://www.Facebook.com/DevaultFoods. "The Devault Foods family sends best wishes and taste to the dedicated men and women of our Armed Forces and hope they can be with family and friends (or will be soon) to have a great Labor Day Weekend." concludes Black.
# # #
Devault Foods is built upon seven (7) decades of the Fillippo's family experience. The heritage includes cattle farmers, butchers and recently leaders in the food service industry. Devault Foods is unrivaled in operational excellence and is a market leader in portion-controlled meat packaging. Today, Devault Foods is focused on current trends and the future needs of the marketplace. Commitment to quality and excellence goes beyond industry standards and provides a platform to deliver exceptional products well into the future. For more information, please visit http://www.devaultfoods.com