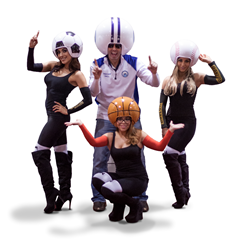 These light-weight Wreckin' Ball Helmets mean you'll be the life of the party! But remember… try not to let it go to your head.
Dallas, TX (PRWEB) April 01, 2015
ARMFLAGS recognized early on that this latest innovation of novelty headwear, known as the "Wreckin' Ball", is the perfect engineering solution (a sphere) for amplifying the only visible body part of every fan… their head. Varying versions of the Wreckin' Ball have been depicted in over 100 publications worldwide, shown in over 30 television appearances, and has made countless Jumbo-Tron appearances. It is truly the ultimate attention-grabber and an entertaining spirit-gadget for extreme sports fans.
ARMFLAGS.COM already commercializes Made-in-USA Polyester-Free arm sleeves in school-specific colors with officially licensed trademarks and logos. The company currently holds 66 NCAA Div-1 licenses along with a license for the Boy Scouts of America®, and numerous High Schools. ARMFLAGS arm sleeves feature a "breathable" & moisture-wicking nylon/spandex blend that allows the arms to stay cool and dry in warm climates while dry & warm in colder climates. Most ARMFLAGS products have certified UPF-rating of 50+. The company sells its products at Spirit-Wear Retailers across the country and directly on their website. The company also offers Custom Designs.
The company, together with the Wreckin' Ball Helmets Founder – Gregg Wilson http://www.Twitter.com/Mr_Wreckin_Ball just embarked on a crowdfunding campaign on INDIEGOGO; http://igg.me/at/WreckinBallHelmets
Contributors to the campaign will receive "perks", such as ARMFLAGS Arm Sleeves and choices of various Wreckin' Ball Helmet Designs. Funds raised will go towards license applications, inventory and royalty pre-payments.
About ARMFLAGS™, LLC
ARMFLAGS is an innovative spirit-wear company providing unique & custom accessory products. ARMFLAGS was formed in 2014 and is an LRG/Learfield & CLC licensed provider of NCAA and High-School Teams. The company is also licensed for Boy Scouts of America®. The company is quickly expanding its assortment and offerings across the country and beyond. ARMFLAGS is focused on providing high quality, team-branded, arm sleeves with official logos & trademarks, allowing fans and supporters to show their passion for teams and causes alike. ARMFLAGS Texas HQ is located in the Dallas/Ft. Worth area. For more information, please visit ARMFLAGS.COM
About WRECKIN' BALL HELMETS™, LLC
Gregg Wilson is the inventor of the Wreckin' Ball Helmet platform and is the current President and CEO of Wreckin' Ball Helmets, LLC. During his younger years as an officer in the Canadian Air Force, Gregg and his peers often wore their military issued helmets during BBQ's and social gatherings for a good laugh and to generate a fun environment. He eventually called upon this early experience and ultimately invented the latest innovation of novelty headwear known as the "Wreckin' Ball". Since Wreckin' Ball first broke on the scene, over 100 prototypes have been created, over 14 design patents have been obtained, and 1 trademark has been issued.