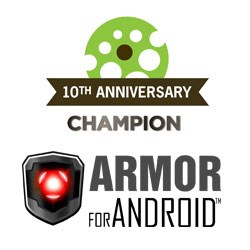 This month, we expand public awareness about cybersecurity, and we recommit to enhancing the security and resilience of our Nation's infrastructure
(PRWEB) October 02, 2013
To start off the month of October, Armor for Android joins; RSA, Microsoft, TrendMicro, along with others, in celebrating 10 years of National Cyber Security Alliance and StaySafeOnline.org.
"In an increasingly interconnected world, many Americans rely on the Internet and digital tools every day -- from communicating with colleagues, friends, and family across the globe to banking and shopping without leaving our homes." said President Barrack Obama, "Technology is reshaping every aspect of our lives, and protecting our digital infrastructure from cyber threats is one of our highest security priorities. This month, we expand public awareness about cybersecurity, and we recommit to enhancing the security and resilience of our Nation's infrastructure while maintaining an environment that encourages efficiency and innovation."
"Our digital infrastructure is a strategic national asset, and my Administration is committed to strengthening this vital resource." Concludes Obama, "As we mark the 10th anniversary of Cybersecurity Awareness Month, let us welcome the great possibilities cyberspace provides and continue to invest in the security measures and innovation that will enable us to safely and fully realize those possibilities."
To learn more about National Cybersecurity Awareness Month please visit http://www.staysafeonline.org/ncsam/about and to learn more about Armor for Android please visit http://www.armorforandroid.com/
About STOP. THINK. CONNECT.
The campaign launched in 2010 and was developed by the STOP. THINK. CONNECT. Messaging Convention, a public-private partnership established in 2009 and led by The Anti-Phishing Working Group (APWG) and National Cyber Security Alliance (NCSA) to develop and support a national cybersecurity awareness campaign. The Department of Homeland Security provides the Federal Government's leadership for the campaign. Industry, government, non-profits and education institutions participate in STOP. THINK. CONNECT.
About Armor for Android
Armor for Android was founded on the ideal of providing complete mobile protection to consumers across the globe. As we saw the rapid growth of Google's Android operating system, we knew that the world was and is rapidly headed to a future where literally billions of its citizens will be carrying an Android device and be completely trusting of it with the most important aspects of their life. The security and digital protection of those users and their data is our highest priority.