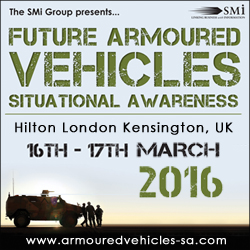 London, UK (PRWEB UK) 17 November 2015
For modern mechanised forces, the ability to act quickly and decisively is vital. However, to perform in such a way, an intimate knowledge of the surrounding environment is necessary. Given the enclosed and highly protected nature of the armoured vehicle, this can often be difficult, with crews becoming easily disorientated. Additionally, the armoured vehicle is becoming increasingly relied upon as a gatherer and distributor of intelligence within the network, with fully digitalized platforms now setting the standard.
Future Armoured Vehicle Situational Awareness 2016 shall tackle these challenges head on, inviting programme managers, operational flag officers, research, as well as the senior engineers and technical directors responsible for increasing platform capability in this vital area. Operational case studies, key programmes, vetronics architectures and the development of advanced sensors, optronics and communication equipment shall be just some of the key areas presented by leading figures within the field.
Major General (Ret) Vasileios Raptis, Hellenic Army, Former Assistant Chief of Staff ACOS J6, CIS & Cyber Defence Directorate, SHAPE HQ, NATO (event chairman) commented "Bringing together those at the forefront of vehicle systems, operation and technological development, Future Armoured Vehicles Situational Awareness 2016 shall provide a platform for programme managers, operational flag officers from military, leading researchers and technical experts from industry, to convene, collaborate and develop solutions in this vital area."
The 2016 speaker line-up features:

Colonel William Nuckols, Director, Mounted Requirements, Manoeuvre Centre of Excellence, US Army
Colonel Fredrik Stahlberg, Commander of the Skaraborg Regiment, Swedish Army
Lieutenant Colonel Mark Cornell, Royal Signals, SO1 Requirements Manager, Battlefield and Tactical CIS Delivery Team, ISS, JFC, UK MoD
Lieutenant Colonel Klein Schaarsberg, Head of Training Branch, Land Training Centre, Netherlands Army
Lieutenant Colonel Peter Nielsen, Commander, Armoured Division, Danish Army Combat and Fire Support School
Major Wouter Alexander Samson, Maneuverer Centre of Knowledge, Department of Defence, Royal Dutch Army
Major Per Kleiven, CV90 Programme Manager, Norwegian Armed Forces
Mr Henk Van Omme, Project Manager, Joint IT Command Netherlands Defence Material Organization
Mr Hans Marrs, AFV Vetronics Project Leader, Federal Office of Bundeswehr Equipment, Information Technology and In-Service Support
Mr Ian Burch, Assistant Head Open Systems, Land Equipment, DE&S
Mr Jos Bormans, Head of Product Management and Innovation, Thales
Mr Guy Davis, Capability Manager, Vehicle Systems, Optronics, Selex ES
Dr Norbert Harle, Vice President, Technology Strategies, Mission Equipment, Rheinmetall Defence Electronics
Visit the website to view the conference programme with full presentation details
There will be a pre-conference workshop on:
Accessing Vetronics Architectures for the Creation of a Fully Networked and Interoperable Vehicle - Hosted by Professor Elias Stipidis, Director, Vetronics Research Centre
Benefits of attending Future Armoured Vehicles Situational Awareness 2016:
The only conference exclusively focused on armoured vehicle communications, situational awareness and system integration
Senior military representation from those leading procurement, including the United States, United Kingdom, Denmark, Sweden, Netherlands and Norway
Cutting edge technology presented by those at the forefront of industry, including Rheinmetall Defence Electronics, Selex ES, General Dynamics and Thales
Gain an insight into how the work of leading military researchers shall influence platform situational awareness
EARLY BIRD: Book before 30th November to save £400
For more information and to register visit http://www.armouredvehicles-sa.com
For event enquiries contact the team on +44 (0) 20 7827 6000 or email: events(at)smi-online(dot)co(dot)uk
About SMi Group
The SMi Group is a highly professional, independent and global event-production company that specializes in Business-to-Business Conferences, Workshops and Masterclasses, and online Communities. The SMi Group creates and delivers events in the Defence, Security, Energy, Utilities, Finance and Pharmaceutical industries. For more information, please visit http://www.smi-online.co.uk