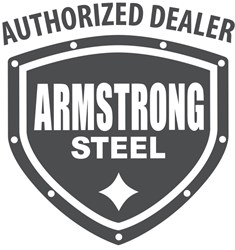 Armstrong Steel is meticulous in its pre-qualification process and thoroughly screens builders before ultimately making its decision.
Grand Rapids, Michigan (PRWEB) August 26, 2013
Armstrong Steel Building Systems is proud to announce that Bowne Construction Corporation based out of Grand Rapids, Michigan has recently been named the newest Authorized Armstrong Steel Builder. Bowne Construction has the experience and expertise that Armstrong looks for when partnering with local builders. Armstrong's discerning clients demand premium quality materials, top notch customer service, and superior construction knowledge as well as qualified, reputable contractors to construct their buildings. Shawn Bowne of Bowne Construction Corp says they do everything in their power to ensure your project goes smoothly.
In today's economy, many business owners are looking to expand their current operations and a pre-engineered steel building system from Armstrong Steel is exactly what many say is needed to make their expansion plans a reality. When contacting Armstrong Steel Building Systems it's clear from the beginning that they care about their customers' needs. Whether it's a storage building for your home, a barn for your prized thoroughbreds, a storefront or office for your growing business, or a sanctuary for your congregation, Armstrong has the talent and resources to turn your ideas into reality. When you are ready, Armstrong Steel can refer you to one of their local Authorized Builders. Armstrong Steel's Authorized Builders will often times manage all aspects of your project, walking you through the permitting process and constructing your building – all while being mindful of your budget and time frame. "Everybody wants an Armstrong Building when shopping for a steel building, but not everyone has the time or skills to construct a pre-engineered metal building on their own. Armstrong Steel is meticulous in its pre-qualification process and thoroughly screens builders before ultimately making its decision. Mr. Bowne has a can-do attitude and gets most of his business through word-of-mouth and referrals which means the guys at Bowne Construction do what they say they're going to do and their customers are satisfied with the level of craftsmanship their firm brings to each and every project," says Tami Giuffrida, Dealer Accounts Manager at Armstrong Steel.
Shawn Bowne is a long-time resident in Western Michigan and is familiar with the entire state having grown up in Ludington, MI. He worked as a field engineer for Bechtel Corp. before moving up to Project Manager where he thrived in high-pressure situations, getting the job done and gaining the respect of his peers in the industry. Six years ago he branched out on his own forming the successful Bowne Construction Corporation in Grand Rapids and he hasn't looked back since. Recently rescuing an 85-unit condominium project for Comerica Corp that was falling behind on deadlines, riddled with problems, and over budget, Shawn was brought in to remedy the situation. He not only completed the project on time but managed to come in under budget after inheriting the project in the red. "I enjoy fixing troubled jobs, we love a challenge. We're a firm who believes in integrity and a commitment to ethics. Everybody says they are excellent, some even strive to be excellent, but when I tell you I am going to do something, I do it!" said Mr. Bowne.
Call Armstrong Steel today at 800-345-4610 or visit http://www.armstrongsteelbuilding.com to be put in contact with an Authorized Builder like Shawn Bowne and get on the fast track to having your new Armstrong Steel Building System up before winter!