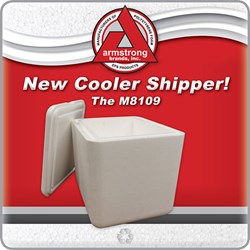 These coolers are the most effective products for shipping anything that is temperature sensitive.
West Seneca, NY (PRWEB) August 30, 2013
Armstrong Brands, Inc. has unveiled a new insulated container called the M8109, adding to their strong line of stock shipping products. The development of this new foam cooler fills a gap and reduces costs for companies and organizations shipping perishable products in varying quantities. "We found many of our customers were looking for sizes and specifications normally not addressed in stock lines. This new shipper allows them to save money and utilize pre-made products before designing custom packaging," commented Andy Severson, President at Armstrong Brands, Inc.
As an industry leader in the manufacturing and design of EPS (Expanded Polystyrene) foam products, Armstrong Brands sells to a diverse array of businesses. In fact, their coolers are used to ship everything from frozen meats, fish and cheese to pharmaceuticals, medicine and organs for transplants. "With their high insulation level, or R-value, these coolers are the most effective products for shipping anything that is temperature sensitive," added Severson. This makes EPS foam the primary choice for shipping perishable items to residential and commercial locations with standard delivery methods.
Finding the right balance between insulation and shipping efficiency, the new M8109 foam cooler features 1.5 inch thick walls. For added protection during transport, Armstrong Brands also has a full line of corrugated cardboard boxes that accommodate every size cooler sold in their product line. "We are proud to provide solutions to the challenges our clients face when shipping items across town or to the other side of the country. And we strive to continually update and expand our products to meet our customer's needs," concluded Severson. Their popular foam coolers and shippers are available on-line at http://www.ArmstrongBrands.com or may be purchased by calling them directly.
About Armstrong Brands, Inc.
Founded in 1985, Armstrong Brands is a national leader in the design and production of stock and custom molded foam products. As one of the top manufacturers of Polystyrene EPS foam, Armstrong continues to lead the industry with innovative ideas that benefit clients ranging from industrial and pharmaceutical to food and packaging. Avid supporters of resolving environmental issues, Armstrong also leads the way on recycling and reuse of foam products.