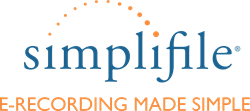 There is positive growth in this industry and it is time for our recorder's office to be a part of the growth.
Armstrong County, PA (PRWEB) April 04, 2014
Armstrong County's Recorder of Deeds Marianne Hileman has implemented electronic recording (e-recording) of documents through Simplifile, the nation's largest e-recording service provider, enabling faster, more efficient document recording.
"There is positive growth in this industry and it is time for our recorder's office to be a part of the growth," Hileman said. "Simplifile is our current vendor for our e-recording process, which is where the documents are submitted to and forwarded to our office electronically."
Document submitters including title companies, banks, legal firms, and other organizations that record documents with the county will now be able to take advantage of the online document recording service through Simplifile, instead of having to use the mail.
According to Hileman, documents are currently sent to her office through USPS, FedEx and UPS, and if the document is rejected for any reason, it must be returned to back to the submitter by mail, which can take a week if not longer before the document is resubmitted.
"With e-recording, a document can be submitted and placed on record immediately," Hileman said. "If rejected, it will be returned to the submitter and can be returned with corrections within minutes. Original documents never leave the submitters possession, leaving less chance of documents being lost or misplaced. Electronic recording simplifies the process."
In addition to the faster turnaround time and allowing customers to retain control of their original documents, e-recording also helps to reduce paper usage and have a positive impact on the environment.
"We're excited to see Armstrong County open their doors to e-recording and offer this service to customers," said Paul Clifford, president of Simplifile. "E-Recording is easy very easy to use, it's secure, and just makes sense with the technology and capabilities that exist today."
A computer, high-speed Internet access, and a scanner – if needed to scan paper documents – meet the minimum requirements for users to be able to e-record with Armstrong County.
Armstrong County is Pennsylvania's 28th recording jurisdiction to offer e-recording with Simplifile, joining more than 1,050 recording jurisdictions nationwide that have also adopted the service.
For more information about e-recording in Armstrong County, call 800-460-5657 or visit simplifile.com.
About Simplifile
Simplifile is the nation's largest and fastest-growing e-recording service provider. Simplifile supports thousands of e-recording customers including title companies, banks, attorneys, lien filers, and other organizations that create and submit documents to more than 1,050 local, state, and federal government jurisdictions. Simplifile's electronic document services save time and the expenses associated with traditional document submission methods. Simplifile is focused on building the industry's largest and easiest-to-use e-recording service for organizations of all sizes. More information about Simplifile may be found at simplifile.com or by calling 800-460-5657.
# # #