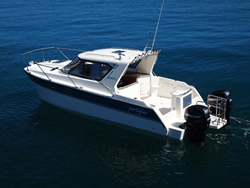 "We're making a statement that ArrowCat is open for business. Initially launched in Alaska and San Diego we have lots of interest throughout the Great Lakes, Gulf Coast, Atlantic Coast and Mexico with our first priority as San Francisco and Seattle."
Everett, WA (PRWEB) April 29, 2014
The new ArrowCat Power Catamaran Demo Boat Program is now the North American sales model and is aimed at entrepreneurs, C level executives and pilots. The Program allows the purchaser of an ArrowCat Catamaran to benefit financially as part of their ownership.
In each chosen North American market city we are placing a demo boat to support factory direct sales. As part of the program a new ArrowCat owner receives a significant discount on the price of a new boat plus back end financial incentives, namely to make those boats available for boat shows and new customer demo rides.
"This is a strong statement that we are open for business and is in response to what we see as a changing market. Technology of internet and notebooks over the past decade has accelerated the migration of our target customers to our doorstep. We've also felt reluctance by the market to play the flooring and financing game, so we tested the program with success in Alaska and San Diego. Demand for ArrowCat catamarans is expanding throughout the Great Lakes, Gulf Coast, Atlantic Coast and into Canada and Mexico." Says Rob Harty Vice President and co-owner of ArrowCat Marine. "Although we are agressively targeting Canada, the US and Mexico, our first priority is to replace our demo boat in Seattle and develop new ones for Newport, CA and San Fransisco, CA with either 32' or our new 42' Flybridge model.
Specifics of each demo boat are being withheld from public consumption, but the framework is a steep discount plus cash back to the Program Boat Owner on every sale where the demo asset was used. In exchange ArrowCat uses the boat in Boat Shows and for marketing purposes.
"With over 60 boats all over the world, we have an increase in people who request to engage with us directly and to use their boat for a business purpose. Our customer base tends to be savvy with the means to support the boat with an eye towards their bottom line." Says Travis Brandt, Director of ArrowCat Factory Sales and Marketing. Anyone interested in finding out more is encouraged to contact ArrowCat directly.
ArrowCat Marine is a leading NMMA certified builder of power catamaran boats designed by world renowned Roger Hill and engineered by world renowned Gurit (formerly Hi-Modulus). ArrowCat's are hand crafted by ArrowCat Marine. Founded in 2008 ArrowCat Power Catamarans are proven on seven seas and four oceans and have achieved CE category B. For more information visit http://www.ArrowCat.com or call (877) 277-6999. ArrowCat's US Base of Operations is 2525 Broadway, Suite 3302, Everett, WA 98201
###