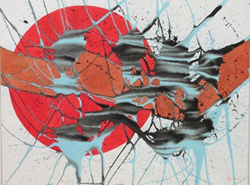 "We are excited to offer this world famous, and North Carolina native, poet's art for sale. We are proud to be the exclusive dealers of his watercolors." - Ryan Laster
Winston Salem, NC (PRWEB) December 10, 2014
Laster's Fine Art & Antiques is pleased to offer watercolors by the acclaimed poet A.R. Ammons for the first time to collectors of American art.
Archie Randolph Ammons (Feb. 18, 1926 – Feb. 25, 2001), better known as A.R. Ammons, was an American poet and artist. Ammons grew up on a tobacco farm near Whiteville, North Carolina. He served in the U.S. Navy during World War II where he began writing poetry. After the war, Ammons attended Wake Forest University where he graduated in 1949 with a degree in biology.
After marrying his wife, Phyllis Plumbo, Ammons studied literature at the University of California at Berkeley. The two then moved to South Jersey where he served as an executive to his father's biological glass factory.
While teaching at Cornell University (1964-1998), Ammons painted almost continuously throughout the 1970s in an upstairs bedroom of his home in Ithaca, New York. Friends familiar with his poetry were astonished to learn that he was as driven to paint as he was to write, and when they saw his brilliantly-conceived abstract expressionist paintings, they purchased some from the poet.
By the time of his death, his reputation as an artist had attracted the attention of private collectors. Ammons' paintings have been exhibited at the Hanes Gallery of Wake Forest University; Reynolda House in Winston-Salem, North Carolina; East Carolina University; galleries in Ithaca, New York; and in a New York City exhibition of paintings by important American writers. Thirty-two paintings are on permanent exhibition in the Ammons Gallery of the Z. Smith Reynolds Library of Wake Forest University.
Before Ammons died, he gave his remaining collection to his friends, Emily Wilson and Provost Emeritus of Wake Forest University Ed Wilson, in gratitude for their friendship and in expectation that the paintings might find a larger audience. Laster's is acting as exclusive agent for the sale of Ammons' watercolors in their Winston-Salem gallery and online.
Ammons' watercolors are available for viewing in the gallery. Please call 336-765-5919 or come visit Laster's to take a look at what they have to offer. Check the art out online at http://www.lastersfineart.com/a-look-into-a-r-ammons/.
About the company:
Laster's Fine Art & Antiques is a family-owned, high-end antique and fine art gallery located in Winston-Salem, North Carolina. Laster's buys and sells high-quality antique furniture, sterling silver and fine art from all over the world. Collectors and furniture lovers from all over come for Laster's hand-made, solid-wood furniture and antiques. The antique store has served the Piedmont Triad community and the world for over 40 years by providing a means to buy and sell quality merchandise. Customers love Laster's for the deals in furniture, antiques, paintings, sculptures, art and other fine household items at their gallery.