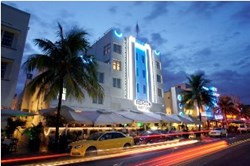 "Visitors who stay at Beacon Hotel will immerse themselves in the hotel's charming art deco architecture, and enjoy being steps away from this world-class cultural event that draws over 50,000 visitors each year" commented Chris Regalado, Revenue Manager
Miami Beach, Florida (PRWEB) September 05, 2013
Art lovers who are attending Miami's Art Basel event from December 5-8, 2013, and New Year's Revelers who plan on heading to sizzling SoBe to bid farewell to 2013 and hello to 2014, are invited to make South Beach's luxury boutique Beacon Hotel their stylish home away from home.
Plus, guests who book their stay in advance online now at this legendary South Beach hotel will enjoy big savings on their winter getaway.
Guests will also enjoy:

complimentary hot daily breakfast
complimentary Wi-Fi
complimentary beach chairs and beach towels
complimentary local calls
personalized "VIP" concierge service
24 hour access to the hotel's Fitness Center and Business Center
valet laundry service
turndown service
exclusive rooftop access
…and more.
"Art Basel, which is held alternatively in Basel, Hong Kong and Miami Beach, is a unique event that features premiere artwork from over 250 of the world's leading galleries and museums," commented Chris Regalado, Beacon Hotel's Revenue Manager. "Visitors who stay at Beacon Hotel will immerse themselves in the hotel's charming art deco architecture, and enjoy being steps away from this world-class cultural event that draws over 50,000 visitors each year."
Added Mr. Regalado: "New Year's Eve in South Beach is an extraordinary event filled with sights, sounds and sensations. A continuous flow of parties, dining, dancing and music combines with a panoramic oceanfront splendor to create an unforgettable event. Joy-filled revelers who stay at Beacon Hotel will find themselves in the area's best location for everything that legendary SoBe has to offer!"
For more information or media inquiries, contact Christopher Regalado, Revenue
Manager, at chris(at)beaconsouthbeach(dot)com or 305.674.8200.
About the Beacon Hotel
Renowned among chic and stylish Miami Beach hotels, and located in the heart of South Beach, the Beacon Hotel is a Boutique Art Deco Hotel just steps away from all of the best entertainment that South Beach has to offer: Sun, Sand and Sea. With the clear blue waters of the Atlantic directly across its front doors, the Beacon Hotel offers the perfect ambiance for a breathtaking beach vacation, featuring world-class amenities, an exquisite restaurant and tantalizing nightlife. Guests enjoy an extraordinary gastronomic experience with live music entertainment that will elevate their spirits with the melodies that fill the air. With an array of beach side water sports, state-of-the-art fitness center and highly advanced business center, Beacon Hotel is a full-service boutique South Beach Hotel.
Learn more at http://www.beaconsouthbeach.com/.
###