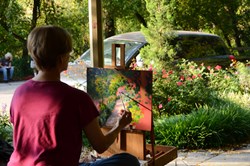 Eureka Springs, AR (PRWEB) August 27, 2013
As the summer season begins to wind down, the calendar change presents an exciting time for the Eureka Springs School of the Arts. ESSA encourages everyone to tap in to their creative muse during their three-day fall workshops this fall.
The first art workshop will take place September 12-14. Participants can wander the historic district in Eureka with Julie Kahn Valentine in what's described as an "Architectural Rendering" workshop. For the landscape enthusiasts, Tom Christopher will hold "Pastels" featuring landscape and plein air works. Finally, students can learn the art of "Overglaze on Porcelain" with Karen Mills.
Kandy Jones returns to ESSA September 20-22 to introduce students to "Hypertufa"- a fun workshop on making garden and landscape art objects.
Students can carry on an Ozark tradition of White Oak Basket Weaving during the next workshop, September 26 - 27, when second generation Ozark basket weaver Billy Owens brings his expertise into town.
From October 3-5, participants can capture the ambiance of Eureka with "Plein Air Painting in Oil" with plein air guru Jody Stephenson. Award-winning watercolorist, Richard Stephens will also hold "Watercolor Painting" over the same weekend.
Lastly, from October 9-11, Ken Addington will host "Drawing, Basic and Beyond." A fun and informative look at the fundamentals of design.
Space is limited for all workshops. ESSA encourages students to register for these workshops online at http://www.ESSA-ART.org or by calling 479-253-5384.
About the School:
Eureka Springs School of the Arts is a non-profit organization bringing art education to Northwest Arkansas. Eureka Springs School of the Arts provides art classes, workshops and team building events to companies and individuals of all ages. Eureka Springs School of the Arts brings people together with mixed backgrounds, ages, and nationalities to work with their hands in a supporting and encouraging way, welcoming all regardless of their talents, skills and interests. They create a lasting memory and students create a lasting awareness. For more information visit their website.