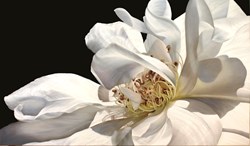 I am the proud owner of Desert Rose II and my daughter and son in law have Rhythm in G. We love them as much or more than the first day we saw them.
[A collector in Texas.]
Charlotte, NC (PRWEB) August 14, 2013
McColl Fine Art is proud to announce that they now feature fine art painter, Deborah Bigeleisen. Bigeleisen specializes in oil, allowing her to create "elegantly deceptive flower paintings" that are said to "hover on the cusp of abstraction and representation," according to New York contemporary art critic, Joyce Korotkin.
Bigeleisen's work enhances private and corporate collections world-wide. Her paintings have received awards and have been featured in numerous museum exhibitions. Her work is a natural fit for McColl Fine Art's collection of contemporary art.
Using a single image of a flower for her inspiration, Bigeleisen's works are unique representations that capture her subject's energy and spirit. Through her technical virtuosity and the use of a carefully controlled color palette, she creates paintings that transcend a 'simple' object of nature.
Bigeleisen, previously the founder, CEO and Design Director of global textile design company in New York City, began her fine art career in 1998. She studied with technical master Sam Perry, internationally acclaimed Canadian artist Tom Hopkins, and renowned visionary Gordon Parks. In the beginning, her paintings were Rembrandt-like portraits of flowers, but she credits her discovery of fractals for transforming her vision into what it is today.
For more information and to view the paintings available through McColl Fine Arts, visit: http://www.mccollfineart.com/artists/deborah-bigeleisen.
Other contemporary artists at McColl Fine Arts include Kenneth Slevin, Renato Meziat, Erik Koeppel and Carlos Madrid. For a complete look at the artists available through McColl Fine Arts, visit their website.
About the company:
McColl Fine Art is one of the premier fine art galleries in the country. Located at 126 Cottage Place in Charlotte, NC, McColl Fine Art specializes in fine American and European paintings with a primary focus on 19th century art and select works from early 20th centuries, as well as Classical Contemporary works of art. They offer works of exceptional quality from periods including the Barbizon School, the Hudson River School, Academic painting, Impressionism and Post-Impressionism. For an experience unlike many other art galleries, please visit their website for more information.