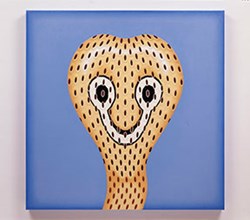 Los Angeles, CA (PRWEB) August 28, 2013
The Ben Maltz Gallery at Otis College of Art and Design and the Laband Art Gallery at Loyola Marymount University are pleased to present an exhibition of contemporary art entitled Tapping the Third Realm on view September 22 through December 8, 2013. Opening reception takes place on the fall equinox, Sunday, September 22, 3pm-6pm (3pm-5pm Otis; 4pm-6pm LMU) followed by three months of related programming listed below.
A large group exhibition, Tapping the Third Realm presents the work of thirty-four artists who address the idea of spirituality through conjuring, communication, collaboration, and chance. It explores how artists tap into another dimension, whether a place of spirits, ideas of heaven, or the collective unconscious. Elements of magic, witchcraft, intuition, and profound attention are evident in the artists' creative processes. There are portals to the spirit world, communications with the dead, spells manifested in glass, prayers as drawings, potions as paintings, and dreams transformed into sculpture.
This exhibition is curated by Meg Linton (Director of Galleries and Exhibitions at Ben Maltz Gallery) and Carolyn Peter (Director and Curator at Laband Art Gallery.)
Featured artists: Ruth Ann Anderson, Annie Buckley, Christopher Bucklow, John Cage, Linda Ekstrom, Clodagh Emoe, Amanda Yates Garcia, Cliff Garten, Cheri Gaulke, Zach Harris, Philip Havice, Alicia Henry, Gilah Yelin Hirsch, Kyle August Lind, David Lloyd, Dane Mitchell, Christina Ondrus, Naida Osline, Sohan Qadri, Ron Regé, Jr., Ross Rudel, Liza Ryan, Betye Saar, Marie Schoeff, Kenzi Shiokava, Linda Stark, Andrés Torres-Vives, Dani Tull, Linda Vallejo, Anne Walsh and Chris Kubick, Bryan McGovern Wilson, Tom Wudl, and Rebecca Tull Yates.
RELATED EVENTS
Full Moon Event II: The Atomic Priesthood
Sunday, November 17, 4pm-6pm, Free
Starts at OTIS Ben Maltz Gallery
Join New York based artist Bryan McGovern Wilson on a journey from the Ben Maltz Gallery to the Laband Art Gallery filled with obstacles and devotion led by an Atomic Priest and overseen by the moon. The Atomic Priesthood is an ongoing, multidisciplinary art project that draws from the unique history and conditions of nuclear waste management. This ritual/performance is steeped in ecological stewardship, advocacy, and strategies for deep-time communication.
Program begins at Otis at 4pm and finishes at LMU by 6pm. Dress for the late afternoon weather and wear walking shoes.
Closing Reception Sunday, December 8, 12pm-4pm, Free
Ben Maltz Gallery and Laband Art Gallery
Artist Amanda Yates Garcia is the "City Oracle" ready to answer questions at LMU while at Otis, Annie Buckley offers a brief history and readings from her new project "The People's Tarot," and Guru Rugu hosts the Experimental Meditation Center of Los Angeles for a ceremony of group realm-tapping.
Otis and LMU are pleased to partner this fall on SPACES BETWEEN, a series of free community events including exhibitions, performances, talks, rituals, and workshops that explore dimensions of the supernatural. For a full list of programs, visit http://www.lmu.edu/spacesbetween/.
Crossing Thresholds: An Entry into Gothic Fiction
September 12 – December 13, 2013
LMU William H. Hannon Library, 3rd Floor
This exhibition, curated by Alexandra Halicki, graduate student in LMU's English Department, explores gothic literature as a threshold genre. The threshold is a space-between-spaces, and acts as a region of monsters and the supernatural - a metaphorical realm of tremendous power and possibility. Featuring rare works from LMU's Terrance L. Mahan, S.J. Department of Archives and Special Collections and photographs by Lisa Nicchi, LMU Class of 2013.
Exhibition Hours: Mon-Fri 8am-5pm
Chance Operations, Random Access
September 22 – December 8, 2013
Otis Millard Sheets Library
Librarian Cathy Chambers uses John Cage's Rolywholyover: a Circus and his reliance on the I-Ching as a methodology to randomly access and display a selection of artists' books from the Otis Library's Special Collections.
Mon-Thu 7:30am-10pm; Fri 7am-5: 30pm; Sat 10:15am-3pm; Sun 12:15pm-5pm.
ABOUT OTIS COLLEGE OF ART AND DESIGN
Founded in Los Angeles in 1918, Otis College of Art and Design prepares diverse students of art and design to enrich the world through their creativity, their skill, and their vision. The College offers an interdisciplinary education for 1200 full-time students, awarding BFA degrees in Advertising, Architecture/Landscape/Interiors, Digital Media, Fashion Design, Illustration, Graphic Design, Product Design, Painting, Photography, Sculpture/New Genres, and Toy Design; and MFA degrees in Fine Arts, Graphic Design, Public Practice, and Writing. Continuing Education offers certificate programs as well as personal and professional development courses. Additional information is available at http://www.otis.edu.