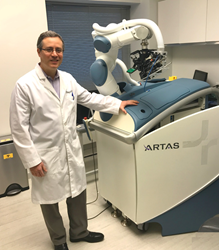 "The latest improvements extend the already substantial capabilities of the ARTAS Robot with improved accuracy, quicker donor healing, and a faster overall procedure." ~ Dr. Michael B. Wolfeld
New York, NY (PRWEB) May 25, 2017
Robert M. Bernstein, MD and Michael B. Wolfeld, MD of Bernstein Medical – Center for Hair Restoration have introduced ARTAS 9x, a major upgrade of the ARTAS Robotic Hair Transplant System. Bernstein Medical became the first practice to perform surgery using the ARTAS Robotic System 9x. A corresponding article describing the latest modifications to the ARTAS robot was published in the industry journal Hair Transplant Forum International. The ARTAS 9x system enables faster and more precise robotic hair transplant procedures.
Some of the benefits of the updated ARTAS system include greater range-of-motion of the robotic arm, newly designed needles for more accurate harvesting, improved optical system, simplified site making, smaller donor wounds, automatic scar detection, and a greater overall speed.
"The latest improvements extend the already substantial capabilities of the ARTAS Robot with improved accuracy, quicker donor healing, and a faster overall procedure." ~ Dr. Michael B. Wolfeld
The article, published in the May/June issue of Hair Transplant Forum International, describes technical modifications to the robot and their benefits. The article is titled, "What's New in Robotic Hair Transplantation."
The ARTAS Robot is a physician-assisted suite of hardware and software components, developed by Restoration Robotics, Inc., which automates key aspects of a surgical hair restoration procedure. Using its three-dimensional optical system, the ARTAS System guides its robotic arm and surgical tools with microscopic precision. By automating follicular unit graft harvesting and recipient site creation, the robot minimizes human error in Follicular Unit Extraction (FUE) hair transplants and allows for the maximum preservation of hair follicles in the transplant.
About Bernstein Medical – Center for Hair Restoration
Bernstein Medical – Center for Hair Restoration, founded by Dr. Bernstein in 2005, is dedicated to the diagnosis and treatment of hair loss in men and women using the most advanced technologies. In 2011 it became one of the first worldwide to use the image-guided, computer-driven technology of the ARTAS Robotic System in clinical practice. Bernstein Medical is a beta-testing site for the study of new product features and enhancements in the robot. The state-of--the-art facility is located in midtown Manhattan, New York City where Dr. Robert M. Bernstein and Dr. Michael B. Wolfeld treat patients from around the globe. The board-certified physicians and highly trained clinical staff at Bernstein Medical take pride in providing the highest level of care for hair loss patients.