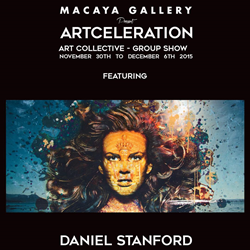 The beauty and consciousness that I try to convey through my work will hopefully be recognized and create the indelible memories art followers will seek at Macaya Gallery.
MIAMI BEACH, FL (PRWEB) December 03, 2015
Daniel Stanford, one of Canada's foremost visionary artists of modern times, revealed his latest work at the highly-anticipated "Artceleration" special presentation at the Macaya Gallery. The special showcase of Stanford's paintings is a once-in-a-lifetime event as the celebration is among the many highlights of the 2015 Art Basel festival in Miami Beach, which will run at Macaya Gallery from November 30 through December 6, 2015.
Artceleration was created to merge the automotive and art world together to showcase one-of-a-kind pieces of art. Artceleration, along with its partners, secures the specific vehicle collection, a set of 3 vehicles either racing, vintage, or exotic. It collaborates with high-profile selected artists, and finally auctions the vehicles giving a portion of proceeds to charities which are involved with every 3 vehicle collections created. Each artist is assigned a vehicle as their canvas and given complete creative freedom.
Stanford, a devoted artist and published author, has earned recognition in the art community for his poignant and eclectic works in modern and contemporary art. Stanford has a reputation for fusing mixed-media,including photography and organic elements, to assemble breathtaking artwork. Some of Stanford's most astonishing works have been featured in mainstream media, such as "House of Versace."
Stanford, a Montreal native, selected Art Basel week as the perfect venue to showcase several of his most cherished new paintings such as "Hermes Arabian Dream" and "Se laissait Aimer". Among his works, he will showcase a print reproduction of his elegant Rihanna Golden Girl artwork -- a mixed-media piece with Swarovski crystals, acrylic, gold and leaves. The original is located in Los Angeles at Rihanna's recording studio.
Stanford has been handpicked to be included in the latest satellite fair X Contemporary Booth #B7 as part of Castle Fitzjohns Gallery New York opening December 2.
He will also present one of his most coveted works "FASCINASIA", a finely detailed coffee book collection of his previous work. He will be presenting the book at Macaya Gallery on December 3 and providing autographed signings.
Douglas Elliman Real Estate will use Stanford's art to stage their latest listing, a $16 million private estate on Saturday, December 5, 2015 from 6 to 9 p.m.
To RSVP for the home listing by Douglas Elliman Real Estate, contact melissa.khorram(at)elliman(dot)com.
Stanford will be among a host of artists, painters and creative professionals displaying their art and projects at the Macaya Gallery. The famed gallery will be home to its event titled "Artceleration" -- an art collective and group show that will house the phenomenal work of international artistic standouts. The collectives will be complemented by the Macaya Gallery's 4,600-square foot structure -- a new art space located in the Wynwood Art District, helmed by Patrick Glémaud, an art connoisseur who initiated the gallery to foster artwork from talented artists of all levels.
Since 1970, Art Basel has established itself as premier, international art show. Art Basel returns to Miami Beach for its 14th event, showcasing some of the most revered and emerging artists from around the world.
"Art Basel, with it's more than 30 satellite fairs, is the largest in the world. It keeps growing and always presents a fresh opportunity to leave a lasting impression, which is at the heart of every artist's desire," Stanford said.
"The beauty and consciousness that I try to convey through my work will hopefully be recognized and create the indelible memories art followers will seek at Macaya Gallery."
For more information about Daniel Stanford, visit http://www.danielstanfordart.com, or follow his fan page at http://www.facebook.com Daniel Stanford Official Fan Page, and on Instagram @daniel_stanford_art. Contact Daniel at DanielStanford(at)MacayaGallery(dot)com or 514-969-6027.
For more information on Macaya Gallery, visit http://www.macayagallery.com.
For Media Inquiries, Interviews or Speaking Engagements, please contact YM & Associates PR | Marketing | Branding at YMoralesY(at)YM-PR(dot)com or call 949-244-9769.
Yvette Morales
YM & Associates
PR | Marketing | Branding
California | New York
Phone: 949.244.9769
YMoralesY(at)YM-PR(dot)com
@YMTheBevHillsPR
http://www.YM-PR.com
About Macaya Gallery:
Macaya Gallery, a new art space, is an initiative by art devotee, corporate lawyer, and artist at heart, Patrick Glémaud. The gallery, located in Wynwood Art District, features 11 feet ceilings and 4600 square feet. Macaya Gallery represents, promotes and showcases world-renowned, mid-career, as well as emerging talent from the disciplines of art, design, and passionate manufacturing, with exhibits ranging from paintings, photography, mixed media and sculpture. Macaya's mission is to inspire their clients, to electrify their spirits, and to let their personalities illuminate through forward-thinking contemporary art and cutting-edge lifestyle design.