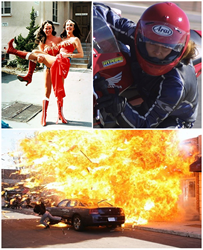 Artemis Women In Action Film Festival is proud to announce the first round of honorees for the 5th Edition!
BEVERLY HILLS, Calif. (PRWEB) December 18, 2018
Artemis Women In Action (AWIAFF) is proud to announce 5th edition film festival honorees Jeannie Epper, Melissa Stubbs, and Lisa Hoyle. The tradition of AWIAFF has always been to showcase films featuring strong women in action, and the festival's history supports that effort. AWIAFF's newest stunt honorees were selected based on their body of work, strength, influence in the movie community, and their fighting spirit! Additional honorees will be announced over the next three months.
Jeannie Epper will be honored with the Artemis Stunt Lifetime Achievement Award and has been cited as one of the greatest stuntwomen who've ever lived. Jeannie Epper has more recently forged a reputation—as Steven Spielberg puts it, "one of the greatest stunt coordinators" in the business. Stunt work is in her blood. Ms. Epper's name is famous in the film industry. Her parents and her siblings did stunt work, and now her children are stunt professionals. After her first stunt at 18 years old, Jeannie has been in high demand ever since. It was her role as stunt double for Lynda Carter on the TV series "Wonder Woman" that defined her early career. Jeannie Epper has doubled for Kathleen Turner in "Romancing the Stone," Kate Jackson in the TV series "Charlie's Angels," and has doubled for countless stars, including Cybill Shepherd, Diane Ladd, Linda Evans, Shirley MacLaine, and Nancy Allen on the action classic "Robocop." Additionally, Ms. Epper has acted in 39 films, including "Kill Bill: Volume 2," "Foxy Brown," "Quarantine," and "Hot Pursuit." Jeannie and 20 other stuntwomen created the Stuntwomen's Association of Motion Pictures in 1968 to improve working conditions for stuntwomen. Truly a pioneer in the stunt community, Ms. Epper's career spans more than 5 decades.
Jeannie Epper looks back on her career as a stuntwoman:
" . . . I wouldn't have wanted another job. I was chasing cowboys and jumping off buildings. That's what I wanted to do. My dad wasn't very happy. He was going to bring me up a lady. But when he died, he told his caregiver (and I can say this now that my brothers and sisters are all passed) that he wished [she tears up] all of his kids had turned out like me." (https://interviews.televisionacademy.com/interviews/jeannie-epper#interview-clips)
Melissa Stubbs will be honored with The Artemis Stunt Action Icon Award. Ms. Stubbs started her career in 1989 with Part 8 of "Friday the 13th." She has since accumulated over 200 credits as both stunt performer and stunt coordinator. Her body of work includes "Mission to Mars," "X-Men 2," the "2007 Bionic Woman" reboot, "Zoo," and "The Rookie." Stubbs has worked closely with Tom Cruise, Angelina Jolie, Hugh Jackman, Cate Blanchett, Harrison Ford, and others. Around the world, Stubbs has worked with Steven Spielberg, George Lucas, Brian De Palma, and James Cameron, designing and choreographing large stunts, horse charges, motorcycle and car chases; fire fights, hand-to-hand combat, and battle sequences. As a member of the Director's Guild of America, Melissa Stubbs is a highly sought after 2nd Unit Director and is the first woman in her field to be invited to join The Academy of Motion Pictures Arts and Sciences.
Melissa Stubbs on the film "Fifty Shades of Grey."
"They wanted it to look realistic and keep it true to the book. So my purpose was helping the actors to get there without hurting them. My job description can be anything to a martial arts teacher to rolling a car. This was a completely different thing. It was about helping the actors get to where they needed to go." Dakotajohnsonlife.blogspot.com
"I've been doing this for 31 years, worked with every great film director currently today, and now I want to take everything I learned from them and my experiences about action and drama and filmmaking, and I want to create an amazing action movie, romantic comedy, something that pulls on peoples' emotions. So when people walk out of the theater, they go, 'wow that was awesome!'" –Melissa Stubbs interviewed by Larry Jordon on Digital Production Buzz
Lisa Hoyle will be honored with the Artemis Stunt Warrior Award. Ms. Hoyle is one of the most successful stunt doubles in the industry. Her 129 IMDB stunt credits include doubling for Angelina Jolie on "Cyborg 2," Diane Kruger on "National Treasure," and Goldie Hawn on "Snatched"; and the most dangerous stunt Ms. Hoyle recalls was a 93-foot fall for "Charlie's Angels." As Lisa Hoyle says, stunt work is the "best job in the world," and while she continues to perform stunts and doubles for actresses, she now combines it with stunt coordinating. Her skill and dedication to her craft has led to her being recognized by the World Acrobatic Society in 2008, and the Taurus World Stunt Awards with Best Fight for her work "The Pirates of the Caribbean: At World's End" in 2007.
Past Artemis honorees include Melissa McCarthy, Michelle Rodriguez, Tom Cruise, Ming-Na Wen, Zoë Bell, Debbie Evans, Danielle Burgio, Heidi Moneymaker, Jessie Graff, Linda Hamilton, and many others. This fifth edition introduces music by women to the festival in the categories of women-powered songs, compositions, and female-led bands. Visit the website for more information and discounts. The final deadline for submissions in all categories, both for film and music is on January 15, 2018, at midnight Pacific Time. For Sponsorship opportunities, visit Artemisfilmfestival.com/sponsors for more information.
AWIAFF is proud to announce the following sponsors: AGENDA Magazine, Bella Composers, and Habibi Sport.
ABOUT AWIAFF:
Artemis Women In Action Film Festival was founded by Melanie Wise and Zac Baldwin, two filmmakers with a long-time love of female driven action films. Wise and Baldwin have produced shorts and features focusing on female action projects. They saw that the genre was loved by audiences around the world, despite the fact that studios, for many years, claimed female action films were box office poison. In 2014, the idea of Artemis was born with the intent to create a space where these types of films could play for audiences with an unsatisfied hunger for female-driven action films. And for the Fifth Edition, Artemis is proud to include female-powered music.
ABOUT THE SPONSORS:
AGENDA magazine is a global fashion and lifestyle online and bi-monthly print magazine. Translated in 48 languages, the magazine offers great journalism, commentary, and reviews. Visit Agendamag.com.
Bella Composers was created to showcase women composers and create opportunities for scorewriters. Female film composers are underrepresented, and Bella Composers fills a niche to bring talented women composers to the forefront. Visit Bellacomposers.org.
Habibi Sport is part of the Habibi Bath & Body product line. Habibi Sport was designed specifically for the very active person. Habibi products are organic, always fresh with absolutely no chemical additives or preservatives. Visit Habibibody.com for more information.