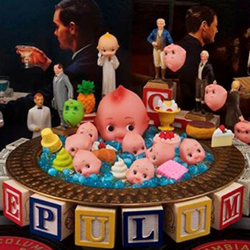 San Diego, CA (PRWEB) June 24, 2014
Join artists, designers, advertisers and great friends for an intimate night of creative discussion about the DIY projects of John Purlia / Nicole Waszak and Tim Mantoani.
This free event will include a lively panel discussion about the arts and the creative process. Additionally, this event will introduce #ArtExpoSD taking place during #ComicCon July 24-26, 2014, and will feature prizes, networking and many area artists.
This event takes place at San Diego's Historic Wonder Bread Factory located at 121 14th St. San Diego, CA, 92101.
###
Mark Murphy has curated thirteen major art exhibitions during Comic-Con over the years and continues to intermingle artists from around the world with local San Diego artists. The spirit of community is always at the heart of his exhibitions, as thematic displays unite the public with creative installation. Additionally, he is the owner of Murphy Design a graphic design firm who specializes in branding, packaging and book publishing creating books for Cartoon Network, Clint Eastwood, Brandon Boyd, Green Day and hundreds of artists from around the world.