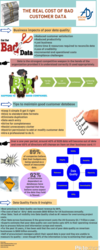 No one plans to fail but many fail to plan - Anonymous
(PRWEB) June 30, 2013
The currency of today's economy is data. Information about customers, products, sales, business partners, competitors and suppliers drive business decisions towards performance and profitability. In a global marketplace where systems, people and processes are interconnected, data quality is an organization's most valued asset.
A recent client survey conducted by Artha Data Solutions within the financial services and healthcare industries found that:

Over 70% of respondents had limited standard terminology to guide data collection processes;
Nearly half of the respondents estimated that their operational risk data is 50% accurate; and
60% of survey respondents could not measure the success of their data quality initiatives.
The way in which an organisation addresses data quality can have an impact on the organisation's financial position, legal and regulatory compliance, service delivery standards and customer satisfaction. Artha's DQ@Cloud™ takes an organisation through the tasks and activities needed to design, implement and sustain an effective data quality programme across the organisation in order to address data quality issues. Designed to be flexible in its application, DQ@Cloud™ provides a framework for implementing the procedural, organisational and technological changes required to address data quality.
Data quality is not a new issue. What is new is the renewed focus that this issue is now receiving due to technological and regulatory changes.
The business drivers for a data quality initiative may include:

Governance and compliance initiative to meet current or future regulatory requirements e.g., Sarbanes-Oxley, HIPAA privacy requirements, regulatory reporting;
System implementation, e.g., ERP, CRM, Data Warehouse;
Use of new technologies e.g., Internet, XBRL to provide financial reporting;
Process improvement;
Supply chain initiatives;
Merger, acquisition or reorganisation;
Need to address data quality issues which are impacting business operations;
History of failed data conversion initiatives or information-related decisions;
Damage to reputation; and
Cost reduction.
In the past, data quality has not been viewed as a strategic issue by many organisations. Today, however, many challenges specifically faced by CEOs, CFOs and CIOs are often impacted by data quality.
Some of the challenges that an organization may need to address as part of a data quality initiative include:

Potential legal issues based on non-compliance or regulatory pressures;
Poor business decisions based on data duplication and inaccuracies;
Misleading data which leads to the questioning of the validity of financial and business reports;
Missed revenue and increased costs attributed to compromised data; and
Repetitive processes or poor data conversion due to inadequate system conversions or implementations.
Artha Data Solutions is an integrated Data Management solutions company headquartered in Phoenix, Arizona, with a solution delivery centre of excellence located in Hyderabad, India. Artha is a channel partner of Talend and Microsoft. It has expertise to provide solutions to solve challenges that arise in data quality and enterprise data integration. For more information about Artha Data Solutions, please visit http://www.artha-ds.com/. For media enquiries, please contact Jaipal Kothakapu, President, Artha Data Solutions at +1 (480) 234 8030.