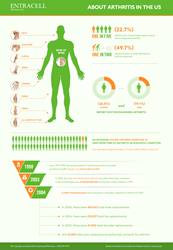 An estimated 294,000 children under age 18 have some form of arthritis or rheumatic condition.
Los Angeles, CA (PRWEB) June 19, 2014
One in two adults, 65 years and older, suffer through arthritis pain. Managing pain is a harsh reality when growing older, so any attempt at lessening pain related to arthritis can be overall beneficial. It is not only common in seniors, as one in five adults have been diagnosed by a medical professional as having arthritis.
As for the overwhelming cost on the American patient, in 2003, a total of $128 Billion was spent on arthritis conditions. That was a 48.5% increase from only six years prior in 1997. Being that approximately 1 in every 250 children under the age of 18 also experience arthritis pain, this number will likely increase without some form of preventative care.
Although it is rare, arthritis can eventually lead to death. Up until 1998, three specific types of AROCs responsible for nearly 80% of all fatalities were diffuse connective tissue disease (34%), other specified rheumatic conditions (22%), and rheumatoid arthritis.
Proper care starts early
Commonly, cases of neglected or untreated arthritis often times lead to live-altering events such as knee replacement, hip replacement and shoulder replacement. Those joints experience the highest instances AORC, but there are many other joints in the body can be detrimentally affected by arthritis. The neck, elbow, wrist, fingers, ankles, toes and the spine can all be affected by joint pain, one way or another, from arthritis and arthritis related symptoms.
Osteoarthritis (or degenerative arthritis) is the erosion of bone and cartilage surrounding the joint. If ignored over time, these joints are referred to as "bone-on-bone." When the progression of arthritis has reached that stage of severity, surgery or joint replacement is often the case. When a proactive, preventative care regime is utilized, the likelihood of surgery is bound to decrease.
EntraCell Pharmacy wants America to be pain free
EntraCell Pharmacy Pain Management Creams and Gels offer various solutions to relive a life lived burdened by arthritis. By utilizing EntraCell's products before arthritis conditions become too severe, there is the opportunity to prevent the advancement of these conditions. EntraCell's products address both acute and chronic treatment programs. Detailed descriptions of EntraCell Pharmacy's specialty pain management, wound care and scar treatment creams and gels can be found at http://www.EntraCellPharmacy.com.
EntraCell Pharmacy can accept faxed prescriptions from the pharmacist at the number listed below. Physicians can also contact EntraCell directly through the Contact page. A pharmacist will review the information, and if all requirements are met, the prescription will be filled. The prescription then will be shipped directly to the customer. If necessary, EntraCell Associates are able to assist patients in locating physicians authorized to prescribe their products.