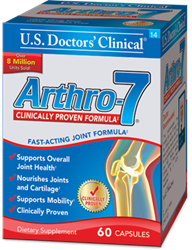 Positive Results Seen in as Little as 2 Weeks ✔ Try Risk Free, 1 Year Money Back Guarantee
(PRWEB) February 25, 2015
For over 20 years, Arthro-7® has been a jewel of a little secret to those with joint health concerns. Over 8 million units have sold through television, online marketing, and direct market sales, will now be widely available in leading retail stores. But it has never before been widely available in leading retail stores. Despite this, it has achieved great popularity in nutritional supplement circles through positive word-of-mouth and testimonials from loyal customers who have recommended it to family and friends. This premium nutritional supplement is one of the few formulas that is doctor formulated and recommended in the offices of many private practitioners. Due to overwhelming customer demand, U.S. Doctors' Clinical® is looking to expand the availability of this supplement into some of the nation's leading retail stores and pharmacies.
The formulators of Arthro-7® saw the need for a joint health supplement that was not glucosamine or chondroitin based due to the allergic reactions these shellfish-based ingredients may induce. The ingredients in this formula were carefully selected based on their individual merits and abilities to support joint discomfort. Together, the results are even more impressive.
Arthro-7® combines 7 ingredients (Vitamin C, Collagen, MSM, CMO, Turmeric, Bromelain, and Lipase) into a single complex supplement that can be taken daily to relieve discomfort, promote mobility, rejuvenate tissue, and nourish cartilage. To validate Arthro-7®'s effectiveness, it was subjected to a 12-week, double-blind, placebo-controlled clinical trial. This study was published in the peer-reviewed scientific journal, Nutrition and Dietary Supplements.
Within just 2 weeks, many of the volunteers in the Arthro-7® group experienced positive changes to their joint health. Additional self-reported changes were recorded at weeks 4, 8, and 12 (the end of the study period). Compared to the placebo, 74.5% of Arthro-7® users reported improvements to their joint symptom scores. Overall, researchers concluded that Arthro-7® showed potent effects at relieving symptoms such as joint discomfort and joint stiffness, and helped improve mobility in patients.
Arthro-7®'s unique formulation, as well as its competitive price point, will help open consumer eyes to the fact that it is a much superior product compared to other joint health supplements currently available. While similar products may contain clinically tested ingredients, Arthro-7® is one of the few clinically proven products verified as a whole formula. Furthermore, besides being shellfish free, Arthro-7® is also gluten free and is a proud sponsor of the Arthritis Foundation, a non-profit organization dedicated to joint health research.
In addition to Arthro-7®, U.S. Doctors' Clinical® offers a premium range of clinically proven, doctor-formulated products containing high-quality nutrients that deliver the most potent benefits across numerous health categories such as: Antioxidants & Vitality, Cholesterol Support, Digestive Health, Prostate Health, and more. Combined, the entire U.S. Doctors' Clinical® line has sold over 20 million products. These formulas are made to the exacting standards of professional doctors and other healthcare practitioners. This is largely because many of these supplements are created with the input of medical doctors, naturopathic doctors, chiropractors, and other members of the U.S. Doctors' Clinical® advisory board, which currently consists of over 40 healthcare professionals.
The "Clinical" part of the brand name stems from the fact that these top-of-the-line formulas have been developed to withstand the rigors of human clinical trials. Many of the leading U.S. Doctors' Clinical® formulas are clinically proven to be effective, and U.S. Doctors' Clinical® is currently in the process of putting its entire product line through clinical trials to prove their efficacies.
Every U.S. Doctors' Clinical® supplement is manufactured in a state-of-the-art, FDA-registered facility in Southern California. This manufacturing facility holds more third-party certifications for Good Manufacturing Practices (GMP) compliance than any other supplement maker in the United States. Premium-grade ingredients are sourced from around the world, but every product is created, packaged, and sealed in the USA to ensure that customers are getting maximum purity and effectiveness. These nutritional supplements are optimized to provide the greatest health benefits possible to not only help manage any existing health conditions, but take preemptive measures against changes that can develop with age. Many U.S. Doctors' Clinical® customers faithfully reorder their supplements to maintain the positive changes they have reported to their health and well-being from using these unique dietary supplements.
Unlike many other premium brands, U.S. Doctors' Clinical® backs up all its products with an extended 1-year, full money-back guarantee on all purchases. This speaks volumes of the confidence and quality that goes into creating these unique nutraceuticals. If a customer is not happy with the quality of any of their products, U.S. Doctors' Clinical® will honor any refund for the unused portion of the formula.
U.S. Doctors' Clinical® looks forward to introducing its entire product line into retail stores so that consumers across the country can experience, firsthand, the benefits of these premium-range nutraceutical formulas. For further information about the U.S. Doctors' Clinical® product line, please go to http://www.usdoctorsclinical.com, and look for Arthro-7® in a retail location