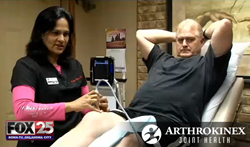 After my second injection, my life changed.
Oklahoma City, OK (PRWEB) May 30, 2014
Angelique Barreto, MD, spoke about the Arthrokinex™ treatment process for relieving osteoarthritis pain during an appearance on the FOX25 news program on KOKH-TV Oklahoma City on May 16.
The Arthrokinex treatment process uses the body's own anti-inflammatory proteins to treat painful areas, essentially enabling the body to heal itself. The non-surgical, non-narcotic treatment process allows arthritis sufferers to delay or avoid surgery.
During the segment, FOX25 anchor Wendy Suares spoke with local firefighter Walter Hawkins and Elizabeth Newell—two of the 100 or so patients currently undergoing the Arthrokinex procedure at Dr. Barreto's practice—both of whom had been suffering from arthritis knee pain.
"After my second injection, my life changed," Newell said in the segment, noting that she has not experienced any pain or swelling since having her first injection a year ago.
The Arthrokinex procedure begins with an ultrasound to pinpoint the area causing pain for the patient. Typically, this pain will be in one of four areas: knee, hip, shoulder or the back.
Once the source of the pain has been isolated, blood is drawn from a vein in the patient's arm, then transferred to special containers on-site. There, it undergoes a separation process, creating a serum containing Interleukin 1 Ra, one of the body's own anti-inflammatory proteins.
Once ready, the serum is loaded into individual syringes, where it is introduced into the affected joint using ultrasound guidance. The entire process takes about an hour.
Arthrokinex patients may receive up to six injections as part of their treatment. The average duration of benefit in Interleukin IL 1 Ra studies is so far about 1 to 1.5 years, but published Interleukin IL 1 Ra European studies indicate that some patients may benefit even longer. Results vary based on patient's disease status and other factors.
The science behind Arthrokinex has been around for a few years. It gained attention in 2011 when NBA superstar Kobe Bryant travelled to Düsseldorf, Germany for Interleuken 1 Ra injections, the result of which—according to a report—was that Kobe's arthritic knee appeared to have healed itself. Other elite athletes, such as golf greats Fred Couples and Vijay Singh, have undergone the procedure with equally positive results.
Dr. Barreto is the first American physician to isolate this Interleukin 1 Receptor Antagonist anti-inflammatory protein using U.S.-made medical devices, and deliver it successfully using Ultrasound Guidance into patients' joints and other areas for rapid and long-lasting relief. Because her practice is located in the U.S., everyday Americans can receive the treatment at a tiny fraction of the cost that wealthy professional athletes pay to travel to Germany and other locales.
Persons suffering from osteoarthritis joint pain can find out if they may be a candidate for the treatment process by visiting http://www.arthrokinex.com/score or by calling (405) 749-0900.
To view the news segment, visit Arthrokinex Joint Health.