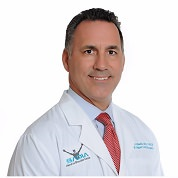 The Thumb Implant is an effective alternative for relieving osteoarthritis of the joint at the base of the thumb – the basal joint.
MIAMI (PRWEB) March 17, 2020
Pain relief is more available than ever for treating a painful arthritic thumb, thanks to the development of ever-newer technologies, says Miami-based orthopedic surgeon Alejandro Badia MD. Dr. Badia, a noted specialist in disorders and injuries of the hand, wrist and upper limbs, is using the BioPro® Modular Thumb Implant as an effective alternative for relieving osteoarthritis of the joint at the base of the thumb – the basal joint. He says such advances in biomaterials could supersede what has been, until now, the "gold standard" for surgical treatment – LRTI.
LRTI, normally performed as an outpatient procedure, involves removal of the thumb joint's trapezium (carpal bone) and then a transfer of a tendon from the patient's forearm to the trapezial space to stabilize the area and prevent collapse of the joint. Although experts contend LRTI provides "95 percent pain relief" and up to 80 percent return of gripping strength, the surgery has some major drawbacks.
"Removing the trapezium may shorten the thumb and leave patients few other options if symptoms persist," Dr. Badia states. He adds that recovery from this kind of surgery also can be prolonged and painful.
Thumb ligament reconstruction without excising the arthritic bone may prove helpful if a patient only experiences a loose tendon, but no loss of bone cartilage, due to disease, Dr. Badia says.
Another common approach is basal joint fusion or arthrodesis which has its cons as well. It is usually limited to a patient's non-dominant hand because the surgery is "associated with decreased range of motion," transfer of normal forces in the thumb to other hand joints and a lack of complete fusion of bone at the thumb's base, according to authors of a 2017 report in Orthopedic Reviews.
"Another option is arthroscopic reconstruction which I tend to use in younger, higher demand patients and when alternatives to surgery are sought. The use of Protease Inhibitors (like PRP on steroids!!) has shown promising results in early follow up of patients with this new modality of treatment," Dr. Badia says.
"As the population ages but continues to be increasingly active, more effective approaches will be needed to provide pain relief from this debilitating osteoarthritic condition, while maintaining strength and range of motion in the thumb," says Dr. Badia, founder and chief medical officer of the Badia Hand to Shoulder Center and OrthoNOW®, a walk-in orthopedic care clinic.
Dr. Badia calls advances in artificial joint implants like the BioPro® a "step in the right direction." Other scientists concur.
For example, in a February 2019 Journal of Hand Surgery (European Volume), authors write that, in a four-year follow-up, patients who received an advanced thumb-joint prosthesis – in this case, an Ivory® implant – experienced "significantly better thumb abduction, adduction, grip strength, pain relief, satisfaction and faster return to daily activities and previous work" than those who had undergone LRTI. The study included nearly 150 patients.
"Advancements in implant design and materials are overcoming the tendencies of older prosthetic versions to fracture, dislocate or simply fail to relieve pain and improve thumb function," Dr. Badia explains. "Arthroplasty of the thumb is much like a total knee or hip replacement. All or part of the thumb joint is removed and replaced with a prosthesis."
Associated with aging or previous thumb injury, osteoarthritis of the basal joint is the second most common arthritic condition of the hand, affecting approximately 15 percent of those above 30 years of age and about a third of postmenopausal women. The disorder, which leads to collagen loss and, in its later stages, bony overgrowths on the trapezium, can result in severe pain and loss of grip function and strength.
Physicians normally pursue conservative treatment approaches for patients in early stages of thumb arthritis, including use of anti-inflammatory medications, injection of corticosteroids, thumb splinting, and physical therapy. However, "these treatments are unable to alter the inevitable course of the disease's progressive pain -- and even thumb deformity -- leaving only surgery as next line of defense," Dr. Badia says.
"Main advantage of total joint surgery is that no bridges have been burned," Dr. Badia adds. "If a patient's symptoms persist, the thumb implant can be readily removed, and another surgical procedure performed."
Meanwhile, he offers these tips for reducing the risk – or at least delaying onset -- of basal joint osteoarthritis:

Perform simple hand exercises that include flexing and bending of fingers and finger touching.
Take frequent breaks from jobs requiring strong gripping of tools like hammers, wrenches or screwdrivers or involve pushing, pulling or lifting of heavy objects.
Practice good posture, especially when using hands for activities such as keyboard typing.
Follow a healthy lifestyle: stop smoking, maintain a healthy weight and eat foods high in nutrition.
Alejandro Badia, MD, FACS, internationally renowned hand and upper-limb surgeon and founder of Badia Hand to Shoulder Center and OrthoNOW®, a walk-in orthopedic care clinic. He is a member of the American Society for Surgery of the Hand, American Association for Hand Surgery and the American Academy of Orthopedic Surgeons and an honorary member of many international professional hand societies. Dr. Badia specializes in treating all problems related to the hand and upper extremities, including trauma, sports injury, joint reconstruction, nerve injuries and arthroscopic surgeries. http://www.OrthoNOWcare.com, http://www.drbadia.com, 305-227-4263.