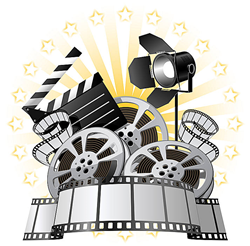 When it comes to classic and vintage films, nobody does it better than Film Noir.
Palm Springs, CA (PRWEB) May 06, 2014
Brad Schmett, Broker Associate with Luxury Homes by Keller Williams today announced that the Arthur Lyons Film Noir Festival, to be held at the Camelot theaters in Palm Springs over several days, will delight classic film buffs and bring in scores of film fans, many of whom will be in the market to add to their real estate portfolios. This will create a substantial boost for local realtors as visitors seek vacation properties and additions to their investment portfolios.
Founded in 2000 by the late Arthur Lyons, the popular festival is comprised of an eclectic mix of Classic Film Noir "B" movies. To the delight of fans over the past decade and a half, the festival has screened some of the most obscure and well-known landmark films of all time. This year's 12 film lineup will feature appearances by such iconic names as Barbara Hale, Nancy Olson, Terry Moore, Susie Lancaster (widow of Burt Lancaster) and Susan Andrews (daughter of Dana Andrews) to name but a few.
Schmett recently observed that, "When it comes to classic and vintage films, nobody does it better than Film Noir. Let's face it, Palm Springs is a haven for famous names and retired entertainment icons. Any time you wonder what happened to your favorite celebrity of yesteryear, you can usually discover the answer here in Palm Springs. This elite film festival appeals to thousands of film buffs and avid collectors who head in annually to immerse themselves in the classics. Once here, they usually want to stay or at least find a second home so that they can enjoy the Valley as often as possible. We are always happy to welcome them."
Beginning on Thursday evening, May 8, at 7:30 PM Camelot theaters will screen The Window, accompanied by special guest star Barbara Hale. The festival will close on Sunday, May 11, with the 4 PM screening of Out of the Past. The complete menu of films may be viewed on the film the walk website.
For more information on The Arthur Lyons Film Noir Festival, visit http://arthurlyonsfilmnoir.ning.com.
To find out more about investing in Palm Springs, CA real estate visit palmsprings realestateinfo.com.
About Luxury Homes by Keller Williams: Luxury Homes by Keller Williams – Palm Springs, is an exclusive, elite and sophisticated group of real estate consultants raising the bar for service in the Palm Springs area residential real estate market.