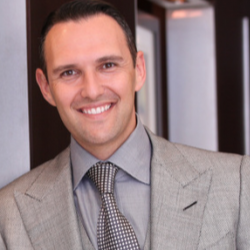 I aim to restore vibrancy using the Rule of Golden Proportions, which focuses on balance, harmony and symmetry of the face.
Beverly Hills, CA (PRWEB) June 25, 2014
Beverly Hills dentist, Dr. Arthur Glosman, publicizes the use of the Glosman LipLift™ and DentalLift™ as an option and part of his dental restoration and a signature smile makeover for patients. Smile restoration by Arthur Glosman DDS in Beverly Hills, near Los Angeles, typically incorporates several different techniques, high precision and a well-defined vision to accomplish perfect results. Smile restorations, also known as smile rejuvenation, touches upon all areas of cosmetic dentistry while observing cosmetic surgery methodology.
"I aim to restore vibrancy using the Rule of Golden Proportions, which focuses on balance, harmony and symmetry of the face," Dr. Arthur Glosman mentions. The treatments engage in careful examination of the teeth and facial aesthetics using X-rays, study models, digital photos and a bite analysis to determine the ideal angulation of the front teeth to best support the cheeks and upper lip. "With the fullness restored to the upper lip, people enjoy a more youthful appearance and a sensational smile."
The Glosman LipLift™ is ideal for those who are considering smile rejuvenation using veneers or ceramic crowns. It can also help patients who may have a wrinkled, thin or sunken upper lip. "The upper lip can often fall prey to such conditions through aging, smoking, weight loss resulting from a breakdown in collagen and loss of skin elasticity," Dr. Glosman states.
The Glosman DentaLift™ restores a worn-down or collapsed bite to its original position with a focus on the bottom-third of the face. The procedure is ideal for those who grind their teeth, have suffered injuries to the mouth area, TMJ concerns, missing teeth, or severe dental wear and tear. "The adjusted bite pattern restores the support to the cheeks and lips in the lower-third of the face, resulting in a more proportional and rejuvenated appearance," Dr. Glosman concludes.
For more information about Arthur Glosman DDS signature smiles please schedule a consultation.
###
About Arthur Glosman
Cosmetic Dentist Arthur Glosman DDS offers a wide array of general, cosmetic and orthodontic dental services to patients in Beverly Hills and neighboring communities who demand the best in overall dental care. His extensive experience in various fields of dentistry, including training in health, and beauty care, gives him an edge over other cosmetic dentists in Los Angeles. Satisfied patients from all over the world have benefited from the advanced dental and beauty solutions offered by Arthur Glosman and his staff, reinforcing his reputation as one of the best cosmetic dentists in Beverly Hills and beyond. He has not only allowed patients to get back the lost beauty and state of their teeth, but also enabled them to improve the quality of their lives by boosting their inner confidence and outer looks. His comprehensive and comfortable approach are why most people who demand top quality dental work prefer to visit Dr. Glosman with all their dental concerns.
Website: http://arthurglosmandds.com/
Media Contact
Karl Hirsch
818-244-3770 x104