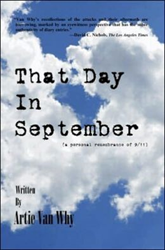 Bloomington, Ind. (PRWEB) May 30, 2014
The events of Sept. 11, 2001 are indelibly etched upon the nation's collective memory, but author Artie Van Why experienced Ground Zero firsthand. He walks readers through the events of that fateful day in his new nonfiction book, "That Day In September" (published by Lulu).
Told in first person, "That Day In September" provides Van Why's eyewitness account of the attack on the World Trade Center and chronicles the weeks and months that followed – all from his perspective.
In May 2014, the 9/11 Museum opened to the public in New York, with first-day tickets selling out well in advance. The museum plans to allow between 5,000 and 8,000 visitors per day. Visitors' reactions thus far have been emotional and solemn. Van Why recognizes that his story still needs to be heard.
"Survivors' stories should continue to be told," he says. "We should never forget."
Praise for "That Day In September":
"Countless heroes emerged from the chaos of Sept. 11, and by selflessly sharing his story, Van Why must be counted among their number."
—David C. Nichols, Los Angeles Times
"That Day In September"
By Artie Van Why
Softcover | 108 pages | ISBN 9781411683150
Available at Amazon and Barnes & Noble
About the Author
Artie Van Why lived in New York City for 26 years. He now resides in Lancaster County in Pennsylvania. "That Day In September" was performed off-Broadway in New York in August 2003. More information is available at http://www.artievanwhy.com.
Lulu empowers people of all ages to explore and express their interests, passions and expertise through books, photography and art. Since introducing self-publishing in 2002, Lulu has empowered creators in more than 225 countries and territories to produce nearly two million publications. Lulu Jr. allows children to become published authors, encouraging creativity, strengthening literacy and building self-esteem. Picture.com offers professional photography of collegiate and professional sports, memorable and historic events, fine art and home décor. For more information, please visit http://www.lulu.com.