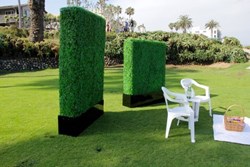 Artificial Hedge Panels are perfect for Events, Parties, Weddings, Privacy, Props, Retail, Hotels, Architects, LEED and more
San Marcos, CA (PRWEB) September 23, 2013
Artificial hedge panels are perfect for weddings, parties, corporate or municipal events. In addition, Geranium Street Floral often rents these hedge panels to local film and television productions.
Geranium Street floral has offices in San Marcos, but can deliver artificial hedge panels all over the San Diego area, from El Cajon to Oceanside and all points in between. Many events use the artificial hedge panels to divide areas where alcohol is being served from other areas. This includes sporting events such as softball tournaments, races, and soccer games. Football season is just starting and there will be many events associated with that.
The large 6' by 8" hedge panels can be used to create a grand entrance way, shield one area from another, or block an unsightly area. The large artificial hedge panels also diffuse and absorb sound, and that is often a concern at large events. Smaller panels are also available and work well as decoration at weddings, quincineras, bar Mitzvas, or openings, etc.
Geranium Street Floral rents artificial boxwood hedge panels, but also builds them to your specifications for purchase. Many commercial clients including hotels, office complexes, casinos, and production companies have ordered pre-made hedge panels from Geranium Street. Other clients have purchased the hedge mats and built the panels themselves.
Geranium Street Floral prides itself on quick, professional and efficient service. Anyone planning a large or small event in the greater San Diego area is welcome to call the company for a quote on hedge panel rentals. These faux boxwood hedges add a bit of class and uniqueness to any event.
Geranium Street Floral
Bob Smith
(858) 525-2251
http://geraniumstreet.com/
Read More On The Geranium Street Floral Newsroom
Related Products:
[privacy hedges] [privacy fence] [event rentals] [fake plants] [privacy shrubs]
[wedding rentals] [outdoor artificial plants] [boxwood] [artificial outdoor plants]
Related Searches:
artificial hedge fence, artificial hedge panels, artificial hedge wall, artificial boxwood, artificial hedge balls, artificial hedge rental, artificial hedge screening fence
#Bamboo #GoogleTrending #Privacy #BreakingNews #New #Green #Eco #LEED #Hotels #Architects #EventPlanners #WeddingPlanners #EventRentals #Sound #Snowden #Drones