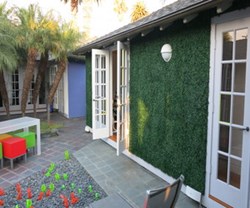 San Marcos, CA (PRWEB) August 30, 2013
Water is the life blood of the desert, and naturally is at a premium. Residents of Las Vegas, Phoenix, and other desert communities have long used decorative stone, gravel and artificial grass in place of expensive real lawns. Artificial hedge is the newest product available for interior and outdoor use and requires no water and little maintenance.
Water bills in the Southwest can be frightening, and residents can attest to that. Real hedge is almost out of the question for most residents of desert communities. New artificial hedge can be applied to walls, fences, and even ceilings to add realistic looking green to dusty court yards, entrances, and be used as privacy barriers around pools. When combined with real plants, fountains, and other traditional Southwestern décor, artificial foliage can be stunning.
Another benefit of artificial hedge is its sound proofing qualities. When applied to retaining walls in a backyard for instance, fake hedge drastically reduces echoes. Home owners with small children like how the artificial hedge muffles the sharp noises caused by their rambunctious kids. Restaurateurs and office managers have also discovered the noise reducing benefits of artificial hedge.
Guests and neighbors are often impressed when they see the realistic looking hedge and wonder how it is maintained in the arid conditions. They are amazed when they find out the hedge is fake. No clipping, no pruning, and no leaves to blow away or rake. Best of all, artificial hedge requires no water to survive. It only needs to be hosed off now and then.
Artificial hedge is available at large home improvement companies but is much less expensive when purchased online. It is absolutely necessary to buy UV resistant hedge for outdoor applications. Other artificial foliage is also available online including artificial boxwood balls, bushes, fake ivy, and brush. Artificial foliage is obviously a big hit in the Southwest because it is relatively inexpensive, maintenance and water free.
Read More and Shop Online at Geranium Street Floral.
#Trending #ArtificialPlants #TheSouthwest #BreakingNews #Architects #Hollywood