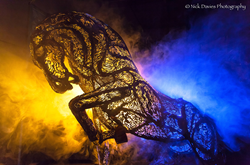 Newport Beach, California (PRWEB) September 01, 2017
The newest emergence of Daniel Oropeza's Neo Fusion sculpture "Lux Maximus" will be unveiled at Kean Coffee in Newport Beach on September 4th, 2017 from 9 a.m.-8 p.m.
"I wanted my sculptures to Glow. Fusing glass and steel, I set out to understand how these mediums come together to create illuminated sculptures that are one-of a kind. The medium is a metaphor for maintaining our own light. I love the uniqueness of The Human Condition and the perspectives that each of us bring to the table. I wanted Lux Maximus to be the icon of my beliefs that I can operate with Grace, personal power and be my light and maybe give others permission t to do the same." - Daniel Oropeza.
For the past 20 years, Daniel has handcrafted several one of a kind sculptures and designs. His latest creation Lux Maximus evolved and transpired from copper, bronze and steel. Lux Maximus will be featured and exhibited at ArtPrize, an internationally known art competition in Grand Rapids, Michigan September 20th-October 8th, 2017.
A pioneer in his own right, Daniel's curiosity and imagination resulted in creating some of the most magnificent, handcrafted, unique sculptures and designs that have literally left people breathless or with an ineffable feeling in the presence of his art which he refers to as "Organic Elegance."
His maverick style of thinking, working, and creating has brought forth a new medium. As a master of creating textures using glass and metal, Daniel's deeply moving soulful sense of beauty, combined with his scientific fascination, has taken this artist wherever his imagination could go. Welding and experimenting with the liquidity of steel is where his vision began.
Daniel's inspiration for Lux Maximus was at an early age when his grandfather introduced him to horses in New Mexico. His time spent with his horses resulted in a deep inspiration and personal awakening from within that seemed to bring life to everything around him.
"I use sculpture as a meditation. Connecting to myself in my surroundings led me to a deeper understanding of my physical limitations and my spiritual aspirations on becoming an evolving human being," says Daniel Oropeza.
About Daniel Oropeza: Born in California, Daniel is a renaissance scientist sculptor who has deep passion for timelessness of beauty and soulful interpretations of how we see ourselves in the things we observe. His desire is to reflect this inner belief through his art. He has participated in several art exhibitions throughout the United States. He has been working as a sculptor and welder for the past 30 years.
To learn more about Daniel Oropeza and his work, you can visit him at http://www.danieloropeza.com or email danieloropeza(at)live(dot)com.