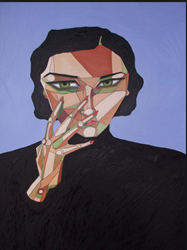 There is a lot of pride here, and Portlanders relate the city to many things from roses, to rain, to strippers.
Portland, Oregon (PRWEB) March 24, 2014
Portland, Oregon artist Karen Russell will welcome artists and visitors to Milepost 5 on Friday, April 4. Russell is hosting a collaborative artist exhibit titled "In Bloom: A Portland Themed Art Show," featuring original art with a Portland theme as interpreted by each individual artist.
Russell encourages both art lovers and lovers of Portland's unique qualities to come view the city's magic through the interpretive eye of local artists. Talented area artists have built a reputation on the element of surprise, and "In Bloom" promises not to disappoint. Visitors can meet the artists, ask questions, and maybe even find a piece that speaks to them.
The show opens at 7 p.m., April 4 at Milepost 5, 850 N.E. 81st Avenue, Portland, Oregon 97213. For more information, email colorbars42(at)gmail(dot)com.
About Karen Russell:
Driven by aesthetics and obsessed with color, Karen Russell is in a long-term relationship with portraiture. It took a series of menial jobs, a knee injury and subsequent unemployment to discover her passion for oils and brush.
Despite an ever-growing catalog and audience, Russell says she still feels like an amateur with another decade ahead of her before she can start feeling satisfied with her work. Her most recent gallery series, Solace in Color, is proof of her ability to keep moving forward, taking her unique style to the next level.
Russell is available for show bookings, interviews, and exploring the beauty in minutiae.
About Milepost 5
Milepost 5 is a community of artists, developed to meet the needs of Portland's working creative class. Occupying two buildings with three visual galleries on a two-acre campus located at 900 N.E. 81st Avenue, Portland, Oregon 97213 in Portland's Montavilla neighborhood, Milepost 5 is a community of about 140 owners and renters who practice dozens of artistic disciplines.
###