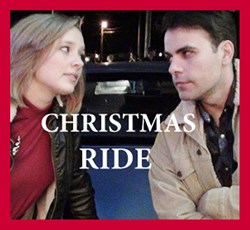 What a phenomenal story and a masterpiece of a movie! -- from a Memphis Premiere attendee
Memphis, TN (PRWEB) November 07, 2013
Art Promotions prepares to attend the annual American Film Market conference this week in Santa Monica, California with its new feature film, Christmas Ride. To malign a quote, "Yes, Virginia, there really is a film called Christmas Ride." It's not a figment of cyberspace made up for all those social media sites you've seen it mentioned on.
The film, produced by Art Promotions in cooperation with Yarbrough Media Productions is seeking acquisition and/or distribution. Outstanding new talent primarily from TN makes up the cast. Original works by over ten musicians create a moving score.
Christmas Ride is a 108 minute, dramatic family feature. In this compelling film, a woman with two kids and a mysterious neighbor hit the road in the pressure cooker of an urgent holiday road trip. After hearing a supernatural warning, this foursome drives through the Southeast U.S. near Christmastime in 1991 and runs into unexpected situations.
The movie is fresh from a one night screening last week in Memphis, TN. Screenwriter Karen Francis said, "It was gratifying to hear laughter bubbling up from the audience around me throughout the movie at the humorous spots. I'm really happy so many came to see it."
Jeff Yarbrough of Yarbrough Media Productions adds, "Shooting a feature film, during Christmas season last year, with all its unique challenges was a hard, but fulfilling task. Camaraderie was strong and friendships were forged. Making Christmas Ride was a lot of fun and we all hope everyone enjoys this heartwarming story."
Cast in the film at http://www.artprofilms.com/; Christmas Ride trailer may be seen at http://www.internationalmovietrailerfestival.com/all-trailers/a-trailer-for-christmas-ride/.
Art Promotions, a business started in 1989, specializes in paintings, prints and productions. It strives to send messages of harmony into the world with the art it markets. Christmas Ride is the company's premier feature film released through its Production division. Art Promotions sponsored educational programs on cable access TV in Virginia in the past.
Additional trailers and spots on YouTube blessings427 channel.
Find more about the film on IMDbpro.com, pinterest.com, and http://christmasride.wordpress.com.