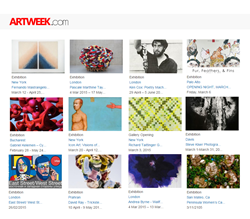 "The company's mission is to connect anyone with an interest in art. " Wayne Lee
London, United Kingdom (PRWEB) March 09, 2015
ARTWEEK.com is currently the major platform for arts events, and ARTJOBS.com is the leading job platform for the fine arts market in the US. The acquisition of Art Jobs has enabled Art Week to expand its boundaries to include groups of business members who can provide the events community with greater possibilities for promotion.
"Our aim is to bring more users into both platforms," says director and co-founder Wayne Lee. "Both sites will benefit from cross promotion, involving a solid core of professionals, business people and private individuals who all share an interest in art."
At present, Art Week is the leading community platform focusing on arts events in the UK, US and Australia, embracing the arts events community and sharing events such as auctions, parties, meetups, exhibitions and performances, and includes news items, sharing the latest newsworthy happenings in the art world with interested members. Information is shared with online members, connecting galleries, museums, buyers and artists. The company's mission is to connect anyone with an interest in art through the site.
"We have hundreds of faithful arts business members who have been sharing their events on our platform for a long time now," says Lee. "Our job is to bring more customers and visitors to their businesses - their success is our success. We are delighted to see that their events have received a large increase in views from our website in recent months and that their businesses are growing as a result."