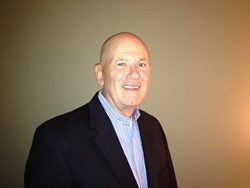 Art brings wide-ranging leadership experience to this position, as well as a successful track record fostering growth and development within early stage businesses
Atlanta, GA (PRWEB) October 22, 2013
Brickstream, a leader in behavior intelligence solutions for environments where people shop, gather, work and play, today announced that Art Walsh has been hired as the company's new Vice President of Operations and Secretary. Mr. Walsh is a 35-year business and technology industry veteran, with a strong background in finance and accounting, human resources and operations management. In addition, Iain Currie, Brickstream's previous Vice President of Operations, has been named Vice President of Value Development and will be responsible for helping the company's customers realize maximum benefit from the behavior intelligence they are capturing using Brickstream technology.
"Art brings wide-ranging leadership experience to this position, as well as a successful track record fostering growth and development within early stage businesses," said Steve Jeffery, CEO of Brickstream. "With Art's appointment and Iain's new, customer-facing role, we are further strengthening our management bench to support Brickstream's continued momentum."
Prior to Brickstream, Mr. Walsh held senior executive and management positions at Accenture (formerly Andersen Consulting), Wilson & McIlvaine Law firm, SQL Financials, Clarus Corporation, eRM Ventures and Endavo Media. His career spans consulting, operations, project management, IPO management, M&A activities and divestitures, including significant experience working with venture capital backed and private equity owned businesses to raise growth capital. As the head of Brickstream's operations, he is responsible for professional services, customer support, logistics, IT, and facilities. Mr. Walsh is based at Brickstream's headquarters in Atlanta, Georgia.
About Brickstream
Brickstream is a leading provider of behavior intelligence solutions for understanding human behavior in the places where people shop, gather, work and play. Brickstream's technology intelligently collects, integrates and analyzes data related to the actions of people as they enter, move through and exit an environment, delivering the equivalent of clickstream analytics for the brick-and-mortar world. Premier retailers, grocery chains, hospitals, banks and others use Brickstream to understand more about their customers and visitors, and draw on the insight gained to enhance customer service, optimize resources, and maximize economic opportunities in real-time. Headquartered in Atlanta, Brickstream has the largest installed base of 3D smart devices worldwide, a global network of partners, and regional offices in Europe and Asia.