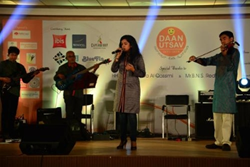 New York, NY (PRWEB) November 07, 2014
Charity begins at home. Moreover, we all know that to bring about change, you yourself need to be part of it. Princess Arwa Al Qassimi is well aware of this principle and takes every possible opportunity she can find to help people in need. HH Sheikha Arwa Al Qassimi, member of the royal family of Sharjah and Ras Al Khaimah, is renowned for her generous donations and initiatives aimed at uplifting the lives of millions and supporting the cause of numerous NGOs.
India Cares Foundation is one such community, whose sole aim is to fuel financially the noble causes of various NGOs. The India Cares Foundation in its third edition of Food for Change did just that and eventually helped raise a whooping Rs 23.63 lakh for 20 NGOs. This humane endeavor grabbed a great deal of attention and inspired many to be part of a such noble cause. The popular Indiranagar Club supported this cause by letting the event set up at their venue. Six top hotels and restaurants, demonstrating their philanthropic motives, contributed food for approximately 450 people. Aartists and well-known personalities were not far behind. SubraMania - the band that features Ambi & Bindu Subramaniam - played their part and performed at this fundraising event in spite of their busy and hectic schedule.
HH Sheikha Arwa Al Qassimi was one of the sponsors of the event so that the NGOs could direct and utilize 100% of the donations for their programs. This third edition has taken the total funds raised by this event to Rs 95 lakh. The main source of inflow of funds came from individual as well as corporate contributions. "We, India Cares Foundation, are really thankful to Her Highness Sheikha Arwa Al Qassimi for the wonderful support and encouragement she provides for the work we do to promote and raise funds for the small and medium NGOs for whom this is invaluable," said Rajan Narayanan, President, India Cares Foundation.
This was not HH Sheikha Arwa Al Qassimi's first event conducted under her patronage. Earlier in 2012, she supported similar events.
This event is just a baby step when it comes to reaching out to every unfortunate individual around the globe. With many Indians still facing issues like illiteracy, lack of proper medical services, food, shelter, and numerous other issues that plagues of developing nations, much remains to be accomplished to help all those underprivileged to escape impoverishment in the opinion of the sponsor. The organization hopes that they will be able to uplift the existing condition of some people and pull them out of the vicious cycle of poverty.
About Food for Change:
Food for change is a fundraiser organized by India Cares Foundation as part of Daan Utsav, India's Festival of Givingthat show cased various NGOs and aided them in raising funds. For more details about the event and in-depth knowledge, visit http://icfn.in/FFC/ngos/.