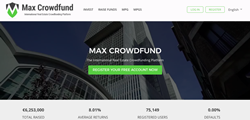 The COVID-19 virus has forced many business sectors online, and we hope the launch of our apps will help prevent investors from missing out on real estate opportunities
ROTTERDAM, Netherlands (PRWEB) June 09, 2020
Max Property Group B.V.(MPG) launched version 2.0 of its real estate crowdfunding platform, Max Crowdfund, today alongside the first version of its mobile applications for Android and iOs.
Max Crowdfund allows registered investors to access high quality real estate investment opportunities in a matter of minutes, from any computer or mobile device, with the security of AML procedures and blockchain technology.
"The COVID-19 virus has forced many business sectors online, and we hope the launch of our apps will help prevent investors from missing out on real estate opportunities," says CEO Mark Lloyd.
The Max Crowdfund platform, which has been under development since 2017, uses blockchain technology provided by Ardor, a leading BaaS platform. Already operational with 75,000 global users, Max Crowdfund is awaiting regulatory approval from the Dutch financial authorities, the AFM, which will make it the first regulated blockchain real estate crowdfunding platform in Europe.
In addition to a user friendly design, version 2.0 of the technology now allows users to link their bank account to the crowdfunding platform, thereby enabling investment in high quality real estate projects in a matter of minutes, from across the globe.
"The Max Crowdfund platform offers a unique combination of blockchain security, traditional bricks and mortar investing, and emerging crowdfunding methods. It is rare for a blockchain technology to be so closely associated with the financial and banking world, but it is precisely bridging that gap that is our mission with this project," says CTO of Max Crowdfund, Erwin van Kekem.