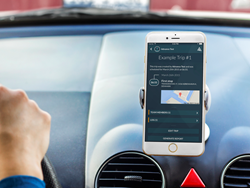 Made by executive protection professionals for executive protection professionals
Bellevue, Washington (PRWEB) May 05, 2015
AS Solution, a leading provider of executive protection and other security services for Fortune 500 corporations, has just released a free mobile app, Advance, specially designed for executive protection teams for advance planning and secure transportation details.
"Advance is the first-ever app specially designed for executive protection teams," says Christian West, AS Solution's CEO. "Now, executive protection agents doing advance work can collect all relevant information regarding an upcoming trip – then edit and share everything before, during or after the trip. All from your smartphone or tablet. All with the highest level of encryption security."
AS Solution, which carried out over 1,600 security details in 49 countries last year, conducted extensive international field tests as part of the app development process.
The free app provides a comprehensive set of tools designed to help protection professionals create a digital advance manual, then use the manual to provide secure transportation, executive protection and event security services. Features include:

Location reconnaissance and reporting: Collect photos, documents and other location-specific files during advance work, then share them with team members and add new documentation during the trip.
Route planning: Create and share main and alternate routes with online maps.
Smart checklists: Get everyone on the same page – and keep them on task – with field-proven worksheets.
Contact management: Keep and share access to all contact information for locations, itineraries and key stakeholders.
Advance manuals: Establish, update and share complete advance manuals that enable your team – and anyone else you invite – to plan secure trips to new and recurring locations such as hotels, conference centers or even cities.
In addition to the free version, AS Solution will soon launch a paid version that provides even more features to improve executive protection teams' efficiency and facilitate better performance management.
The Advance app is available in for iPhone and iPad in Apple's App Store, for Android phones and tablets in Google's Play Store, and soon for Windows phones and tablets in the Windows Store.
AS Solution provides a full spectrum of corporate and personal security services that includes executive protection, secure transportation, event security, estate security, anti-piracy security, embedded security as well as security training and consulting. Clients include major corporations, NGOs and high net worth individuals and families in the US, Europe, Asia and Africa. For more information, see http://www.assolution.com.
For more information, please contact Kelly Snelling, kes(at)assolution(dot)com, telephone +1 (425) 296-3017 X 100