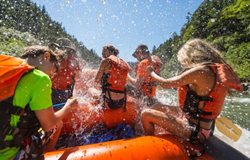 "We are actively monitoring conditions reports from fire and air quality officials as they are available. Our goal is to help our guests enjoy a summer adventure on the Rogue safely, despite the wildfires in the area."
MERLIN, Ore. (PRWEB) August 12, 2018
Summer wildfires prompted a close to an approximate six mile section of the Rogue River west of Grants Pass near Galice and Hellgate Canyon for a little over a week. Outfitter Morrisons Rogue Wilderness Adventures was evacuated and their day trips temporarily suspended during the closure.
They are pleased to announce that the half-day and full-day rafting trips will be running as of Friday, August 10th. The Morrisons Rogue Wilderness Lodge will reopen on Monday, August 13th. Their multi-day rafting trips, as well as the popular Nugget Run trip, were not impacted by the closure. Multi-day trips float through a 40-mile stretch of the Wild & Scenic Rogue River.
Although the Taylor Creek Fire continues to burn, fire and air quality conditions pose no current risk to rafters on their downriver trips. While the fire has grown to nearly 42,000 acres, the river is now open for recreational use.
According to Andrew Pratt, General Manager of Morrisons Rogue Wilderness Adventures, "We are actively monitoring conditions reports from fire and air quality officials as they are available. Our goal is to help our guests enjoy a summer adventure on the Rogue safely, despite the wildfires in the area."
Morrisons has been leading world-class rafting, fishing, and hiking trips on the Rogue River for over 50 years. They are Southern Oregon's premier rafting company, working daily to protect and preserve the majesty of the Wild & Scenic Rogue River. To learn more about Morrisons Rogue Wilderness Adventures, please visit their website at https://RogueRiverRaft.com.