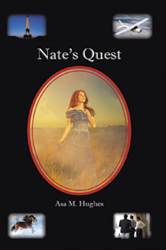 FOGELSVILLE, Pa. (PRWEB) August 27, 2015
Rubbing shoulders with Pittsburgh's high society was in her future, yet Nate never saw it coming. Growing up in the Appalachian hills, the tomboy couldn't imagine that one day she'd be living a life radically different from her quiet life on the farm. When fate and tragedy took Nate on a journey she did not expect, she rejected the limited options available to her and instead carved out new destinations previously inaccessible to women of her era.
Covering a span of 40 years between the 1920s and 1960s, novelist Asa M. Hughes crafts a story of how tragedy, hard work and brave decisions drive a young woman to achieve the American Dream in his new coming-of-age novel, "Nate's Quest" (published by Lulu).
Readers follow Nate as she blossoms into the perfect farmer's wife and mourn with her as her life takes unexpected, harrowing turns. When confronted with difficult choices, she bravely opts for "none of the above." All the while, she diligently carves a path of her own. She shuns the idea of becoming a teacher and instead gets her degree in engineering, with a dream of building bridges.
Those bridges would have to wait. Obstacles and opportunities cross her path. Owning a charm school wasn't her aspiration as a child, neither was flying airplanes, attending cocktail parties nor leading an engineering firm. She manages to achieve all of this and more through grit and hard work.
Nate's choices weren't obvious, nor were they easy, but they were hers. "Nate's Quest" illustrates the possibility for success when opportunity and hard work align.
"Nate's Quest"
By Asa M. Hughes
Softcover | 6 x 9 in | 306 pages | ISBN 9781483428376
E-Book | 306 pages | ISBN 9781483428369
About the Author
Asa M. Hughes grew up on a farm in western Pennsylvania. His enthusiastic curiosity and love of reading contribute to a diverse range of work and personal experiences. He holds degrees in aerospace engineering. Asa resides in Allentown, Pennsylvania, and enjoys international travel.
Lulu empowers people of all ages to explore and express their interests, passions and expertise through books, photography and art. Since introducing self-publishing in 2002, Lulu has empowered creators in more than 225 countries and territories to produce nearly two million publications. Lulu Jr. allows children to become published authors, encouraging creativity, strengthening literacy and building self-esteem. Picture.com offers professional photography of collegiate and professional sports, memorable and historic events, fine art and home décor. For more information, please visit http://www.lulu.com.