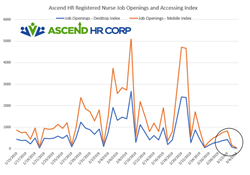 "We are excited about what this can do to help our healthcare partners in making better strategic and tactical decisions regarding their registered nurse staff. We have already seen a positive trend internally"
HOUSTON (PRWEB) March 13, 2019
Ascend HR Corp, a leader in the full-service recruitment process enhancement industry, has launched the Ascend Registered Nurse Job Openings and Accessibility Index (ARNJOI). The index is designed to help employers create strategic plans based on real-time job postings and data, while helping registered nurses find quality openings.
Ascend's index predicts recruitment advertising costs and time to find candidates, as well identifying the most optical times of year to open new searches for registered nurses.
ARNJOI tracks both mobile and desktop indexes to measure how nurses organizations planning to expand can use ARNJOI to predict the degree of difficulty on staffing during specific times of the year
"We are excited about what this can do to help our healthcare partners in making better strategic and tactical decisions regarding their registered nurse staff. We have already seen a positive trend internally" says Rollis Fontenot III, president of Ascend.
Having begun collecting data at the start of 2019, Ascend's index captured openings across major job posting websites relative to the number of estimated number of registered nurses employed.
ARNJOI was at 861 for mobile and 446 for desktop, which was relatively weak compared to the end of January—indicating job postings are more common at the end of the month. Lower numbers indicate a slow down in the amount of open positions for registered nurses.
From the end of January to late February, ARNJOI found an increase, showing the index at 3,732 on mobile and 1,920 on desktop, with the numbers dropping later in the month. Sharp increases in the ARNJOI like these can indicate that job openings are heating up for RNs.
For information on the Ascend Registered Nurse Job Openings and Accessibility Index, visit ascendhrcorp.com/job-openings-index.php.
About Ascend HR Corp:
Ascend HR Corp has been dubbed a leader in the full-service recruitment process enhancement industry with the development of the first subscription based healthcare recruitment service in the United States. Their cohesive team focuses on helping clients improve their internal processes and to help better execute at any step within the talent acquisition process. Some of the company's accomplishments include winning the 2015 National Best and Brightest Companies to Work For and being members of both the National and Houston's Minority Supplier Development Council as well as the American Society of Healthcare HR Administration, just to name a few. Locally, Ascend was a winner as one of the 2016 and 2017 Houston's Best and Brightest Companies to Work For as well as Founding Sponsors of HHHRA (subchapter of ASHHRA), As Ascend HR Corp continues to grow their image as industry leaders within talent acquisition by subscription and recruitment process enhancement, their latest development, the HR Maximizer, surely has potential to expand to most healthcare facilities and other organizations throughout the United States.