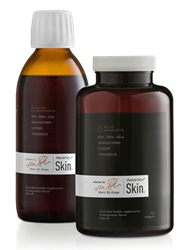 Halifax, NS (PRWEB) May 22, 2015
Following yesterday's announcement that Ascenta Health Limited has entered into a sale agreement with US-based health brand Nature's Way, Marc St-Onge has affirmed his commitment to the Ascenta Skin brand. Retention of Ascenta Skin is an integral part of the agreement with Nature's Way and St-Onge is excited about this opportunity to further develop Ascenta Skin into a leading player in the skincare industry.
Ascenta Skin is a breakthrough, anti-aging skincare supplement featuring 6 active ingredients including therapeutic levels of omega-3 EPA & DHA, GLA, potent skin antioxidants, and vitamin D. Following many years in development, the product boasts unparalleled results as the active ingredients are efficiently delivered to the skin's layers from within. In Canada Ascenta Skin represents an industry first as it was clinically reviewed and approved by Health Canada to increase elasticity, firmness, hydration, and reduce roughness and redness associated with atopic dermatitis. In 2014, a breakthrough clinical trial proved that the dietary supplement significantly increases skin's natural protection against ultraviolet (UV) radiation, the leading cause of skin damage and accelerated skin aging. The brand has also achieved acclaim in the beauty industry, having received the coveted award of "Best Anti-aging Elixir" from New Beauty in 2014, who also proclaimed Ascenta Skin "1 of 9 products changing the beauty industry".
A recognized leader in research and development, Ascenta Skin will continue to focus on innovation in skincare and anti-aging. The company headquarters and research facility will remain in Halifax, Nova Scotia led by Marc St-Onge. Ascenta Skin products are available at leading spa retailers, Space NK, and select health care professionals.
About Ascenta Skin:
Ascenta Skin is a breakthrough, natural skincare supplement which works from the inside-out to nourish, restore, and protect the skin. Located in Halifax, Nova Scotia, the company was formed in 2003 based on the belief that "it's what's inside that matters". Since its inception, Ascenta's intent has been to create health for people and the planet. Ascenta has been named one of Canada's greenest companies. It is a leader in environmental protection, using 100% renewable energy and through its membership with 1% for the Planet donating almost $1,000,000 to environmental non-profits since 2007. For further information, please visit the Ascenta Skin website at: http://www.ascentaskin.com.
###