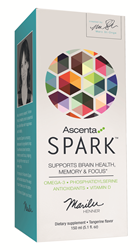 "I'm so excited to work with such an innovative company and very proud to introduce Ascent Spark across the country," said Marilu Henner
Los Angeles (PRWEB) March 04, 2014
Ascenta Health, Ltd. is launching a new brain health supplement, Ascenta Spark, endorsed by one of the world's leading memory experts Marilu Henner. Ascenta Spark contains six active ingredients specifically formulated for cognitive health and is available at Walgreens stores throughout the United States.
Just one teaspoon of Ascenta Spark contains 100 mg of phosphatidylserine along with 100% of the daily omega-3 and Vitamin D recommendation. The composition of omega-3 fatty acids and the brain health super-supplement phosphatidylserine enables Ascenta Spark to support one's memory and focus. It also features a delicious tangerine flavor.
Ascenta CEO and founder Marc St. Onge has partnered with actress and five-time Golden Globe Nominee Marilu Henner to create Ascenta Spark. Henner is one of only 12 known people in the world with a highly superior autobiographical memory that allows her to recall almost every day of her life with near perfect detail. Henner's passion for memory and brain health led to her bestselling book Total Memory Makeover.
Ascenta will be showcasing their innovative supplement to the public from March 7-9 at the Natural Products Expo West at Booth 704. The expo will feature Henner as a speaker in a session titled "Spark Your Brain" on March 7. Following the session, Henner will return to the booth to engage with fans and discuss Ascenta Spark. Held at the Anaheim Convention Center in Anaheim, CA, the trade show is the leader in the natural, organic and healthy products industry. Although Henner will only be in attendance for the first day of the expo, additional Ascenta Spark team members will be at the convention through March 9 to present the product.
"I'm so excited to work with such an innovative company and very proud to introduce Ascent Spark across the country," Henner says. "In addition to diet and lifestyle, supplementation is so important, not just for your physical well-being but for brain health as well. It couldn't be easier to do something good for your body and mind!"
St. Onge, a renowned expert in the field of omega-3 says, "I developed Ascenta Spark's unique formula to help people live healthier and more vital lives, naturally. This product is optimal for people who are looking for good overall well-being along with an extra boost in their cognitive health."
Founded in 2003, Canadian company Ascenta Health develops high-quality, natural health products for people and animals. An early member of 1% For the Planet, Ascenta donates one percent of its annual sales to non-profit environmental organizations. Ascenta also created the Pure Check program, ensuring each product they make is independently tested by a third-party laboratory to ensure label claims are met and exceeded. The Pure Check results ensures that the products adhere to stringent quality standards and results for each batch are shared online for consumers to see.
"We want to establish confidence and honesty around our products so our customers are never wondering what's in their bottle or second-guessing our label claims," says St. Onge. "Each and every bottle's test results are posted online and can be reviewed at any time, so you know exactly what you're getting and can rest assured the quality and potency of our products is guaranteed."
Ascenta Spark is available at Walgreens stores across the US and online. For more information on Ascenta Spark, please visit http://www.ascentaspark.com.