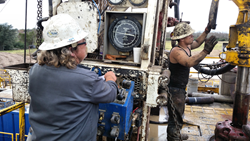 "Due to hard work, relationships with industry partners, and the advancement of 3- D Imagery, Aschere Energy is fortunate to have the opportunity to drill in this World Class Producing Region." - Alex Parvizian CEO Aschere Energy
Dallas, Tx (PRWEB) December 22, 2014
Aschere Energy reports the concluding construction phases for the surface location and are mobilizing drilling operations on their marquis property, the 3D-HD COOLANGATTA 4-Way Closure Prospect.
Forms have been filed and approved by the TEXAS RAILROAD COMMISSION under acting Industry Partner and Official Operator of Record, AURORA RESOURCES CORPORATION.
The Location has been staked in accordance with City, State, and Federal Law and under the guidance of the Texas Railroad Commission precisely marking the boundaries within the easing borders as well as getting approvals granted via the County Commissioner and City Manager on location.
The grassy portions of the operations zone have been stripped and cleared and the underlying ground is drying as we prep for dirt and caliche delivery to help level and plain the location and make traversing the terrain easier on all equipment and vehicles moving on it as well as help preserve the environment itself.
Notifications of land and mineral owners have been placed and any further permitting continues as we expect the water well to be drilled before the end of the week. Further location excavation and construction will conclude with oil and water pits being marked and dug in preparation for mobilizing the rig on site December 10th 2014 commencing Venture drilling operations.
When Venture Drilling Operations have commenced, we will have a satellite uplink for real time 24-hour Video surveillance of Operations which should be fully operational in the coming month(s).
For more information regarding Aschere Energy please visit its website: http://www.AschereEnergy.com
About Us:
Aschere Energy's integrated business model combines performance and responsibility within a strategic vision. Through the latest technology, coupled with sound business principles, disciplined oil and gas exploration and extraction has never been a more exciting commercial enterprise. Rooted in our General Partnerships, forward-looking technologies and applications allow us to merge revolutionary 3D digital imagery with advanced horizontal drilling and stimulation techniques to maximize their fullest ultimate potential. We can monetize strategic commercial reserves within the producing field while mitigating our managed risk threshold yielding more lucrative and sustained results with our Industry and Capital Partners.