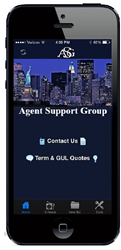 New York, NY (PRWEB) March 26, 2014
Agent Support Group, a multi-company brokerage agency focused on distributing life and health insurance products for over thirty companies to life insurance advisors, continues to expand its innovative "One Click" mobile technology. "One Click" provides advisors the ability to obtain Term and Universal Life quotes, industry news, financial calculators, underwriting and risk assessment guides, current annuity interest rates, podcasts and more anywhere via their smartphone or tablet. Providing mobile access to needed sales support information permits advisors to work more efficiently and enhances the advisor/client relationship.
The Principal and Legal & General America are working with Agent Support Group to further expand the development of "One Click" mobility. This is an important milestone in ASG's efforts to provide advisors the highest level of sales support. Resources from these major life insurance companies, says Sam Kaufman, President of Agent Support Group, provides ASG with the technological solutions to further advance our "One Click" mobile app for life insurance advisors.
AGENT SUPPORT GROUP, founded in 1973, is one of the largest life brokerage agencies on the east coast with offices in New York City, Long Island, Westchester and New Jersey. ASG has been an innovator in bringing technology to the life insurance professional. Mobility continues ASG's "Our Vision/Your Future" strategy for providing life insurance professionals with unique tools to make them more productive. ASG's One Click Mobile App is available for download onto smartphone's tablets and Android by searching under ASG at the App Store.
Company: ASG-Agent Support Group
Press Contact: Louise Lombardi
Press Contact Phone: 516.404.8670
Press Contact Email: louise(at)asglife(dot)com
Website: http://asglife.com
http://www.youtube.com/watch?v=7DyLE8an8T4
#14-036 Legal & General America life insurance products are underwritten and issued by Banner Life Insurance Company, Urbana, MD and William Penn Life Insurance Company of New York, Garden City, NY