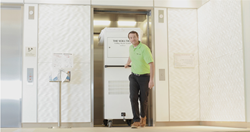 We are always excited to show others in our industry how easy and effective The Solution is to use. We know The Solution is the quickest and easiest mobile containment unit on the market.
Livermore, CA (PRWEB) July 10, 2015
PREVENT Life Safety is pleased to announce they will be exhibiting this year at the American Society for Healthcare Engineering (ASHE) Annual Conference, taking place July 12-15 in Boston, MA at Hynes Memorial Convention Center. ASHE's Annual conference provides an opportunity for individuals in facilities management to join forces, share thoughts, and discover the newest advancements in the healthcare facilities engineering environment.
The Solution™ 10 Mobile Containment Unit, developed by PREVENT, will be on display at their Booth #806 and available for attendees to test out its One Step Lift & Lock Mechanism™. The mobile containment unit allows for single-person set-up in 38 seconds and provides quick and efficient mobility throughout the facility. As a leader in infection control and containment, PREVENT developed The Solution™ Mobile Containment Unit as an easier and more effective way to help lower the occurrences of healthcare associated infections (HAIs) caused by construction and maintenance projects.
PREVENT will be hosting a free drawing for an ASHE attendee to win The Solution 10 for their facility. ASHE attendees interested in entering must visit booth #806 to enter the drawing, and must be present to win when the drawing takes place on Tuesday morning.
"We are always excited to show others in our industry how easy and effective The Solution is to use," says Ann Pollard, VP of Sales and Marketing at PREVENT Life Safety. "We know The Solution is the quickest and easiest mobile containment unit on the market and facilities departments can save on labor while preventing HAIs in their hospitals. ASHE attendees will appreciate the simplicity and durability of The Solution once they've seen it for themselves."
PREVENT will also be discussing the various life safety services they provide, which include fire damper inspections and repair, fire door inspections and repairs, firestopping, and more. PREVENT has Intertek Qualified Personnel and certified firestop installers on staff, to ensure their clients' passive five protection systems are working properly and are code compliant at all times.
"As a former FCIA President and working in the industry for over 16 years, I've come to appreciate the importance of the life safety services we offer, and the work we do is not to be taken lightly," says Jodi Clem, Senior Account Manager at PREVENT. "We strive to be the best in our industry, and want to share that passion with our current and future clients."
Visit PREVENT at booth #806 to learn more about their life safety services, try out the easy-to-use mobile containment unit, The Solution, and enter to win The Solution for free for your facility.
About PREVENT Life Safety
PREVENT Life Safety is America's premier provider of facility life safety services. With operations in California, Arizona, Washington, Oregon and Texas, PREVENT Life Safety provides life safety services to the healthcare, commercial office, and hospitality industries throughout the western United States. PREVENT's services include: fire damper inspections & repair, fire door inspections, repair, & recertification, firestopping, mechanical systems restoration & duct cleaning, as well as photoluminescent egress systems installation.
PREVENT is also a pioneer in infection control with the development of The Solution™ line of mobile containment units, which prevent the spread of dust and other potentially harmful particles from entering occupied spaces during construction or maintenance work above the ceiling. For more information on PREVENT Life Safety, please visit their website at http://www.prevent-lss.com.