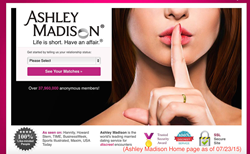 Looking beyond the sensationalized headline, the real issue is the breach of privacy and the potential for not only identity theft, but also blackmail and extortion.
Houston, Texas (PRWEB) August 08, 2015
McCann Investigations, a Texas-based private investigations firm recently published an article which discusses a recent high profile hack and private information on a popular dating site. While the subject matter might be reprehensible to some, the real issue with the theft of over 37 million account users personal information, including profiles and credit card information is what the hackers can do with that information.
"Looking beyond the sensationalized headline the real issue is breach of privacy and the potential for not only identity theft, but also blackmail and extortion." says Daniel Weiss, Managing Partner for McCann Investigations. "As private investigators dealing with cyber security, we understand that 'deleted', usually doesn't really mean 'deleted'. Once something is on the internet, like a personal profile and credit card information, it's very hard to completely remove it." continued Weiss.
This cyber security incident is yet another reminder that small and medium-sized businesses need to enact effective cyber security measures. For these enterprises, not being aware of a computer intrusion into your network doesn't mean it's not already occurring. Many businesses face persistent threats wherein hackers have gained entry into their system and have set-up a virtual camp while looking for confidential information, trade secrets, sensitive communications and any other valuable online business assets.
About McCann Investigations
McCann Investigations is a one-source solution for comprehensive case management. All McCann Private Investigators are licensed in the various states in which they serve and have extensive experience in the field. McCann Investigations was founded by Jack McCann over 25 years ago in New York, New York, and has provided private investigative services to law firms, public companies, private companies, government agencies and individuals.
McCann Investigations begins each case with an in depth client assessment of the project parameters and objectives. Based on these objectives, McCann Investigations will prepare a cost effective proposal that will meet the client's goals and time schedule. McCann Investigations will provide detailed reporting based upon client's objectives.
McCann Investigations is a fully licensed Private Investigations firm with offices in Texas (TX License C15690), New York (NY License 11000120404) and New Jersey (NJ License 5271).