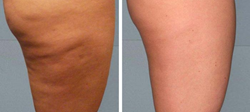 Cellulite is the external appearance of the abnormalities within the fascia.
Los Angeles, CA (PRWEB) May 20, 2014
CEO of FasciAnatomy, Ashley Black, never intended to become an expert in the beauty market. Black devoted her extensive career to pioneering Fasciology™, the study and treatment of Fascia. Her expansive list of personal clients boasts A-list celebrities, royals, billionaires, and professional athletes from every major sports.
Black explains: "Owning sports clinics that cater to 250-pound plus professional athletes every day takes a toll on the bodies of the 5'2", 120-pound Fasciologists™ helping them. We needed a way to open and loosen the fascia so that we could get into the deeper muscle system for our players."
By inventing the FasciaBlaster™, a new fascia tool for her staff, she was able to cut treatment times in half and improve results.
What she didn't know is that by using the Fascia Blaster™ on herself, she would eliminate the dimpled look on her legs that she had since puberty.
"I was using the tool for overall flexibility and better sports performance, having no idea that I was about to be blown away by the side benefit. As a mother of three at age 40, I eliminated the dimples from my legs for the first time, despite the fact that I had always been physically fit and athletic."
And Black is not alone. According to Harper's BAZAAR, cellulite "affects nearly 90 percent of all women regardless of activity level or body type."
What Black discovered is that cellulite is actually just the distribution of fat beneath the layer of fascia between the skin and the muscles.
MD and Plastic Surgeon Dr. Swet Chaudhari has manipulated the fascia in his surgical beauty treatments and agrees, stating that "cellulite is the external appearance of the abnormalities within the fascia." This is why men and women can have what look like puckers virtually anywhere in the body.
Black explains that "Anywhere you see a dimple on your body, or disproportionate fat, this could be stuck fascia trapping the fat in a displeasing way."
Humans literally have fascia in every nook and cranny of our bodies. When fascia becomes tight, it can stick together causing a grid-like pattern just below the skin. This grid-like pattern can also be pulled down towards the bones causing divots like a golf ball.
Whatever fat exists below the fascia pushes through the grid, like a marshmallow pushing through a chain link fence. The fatter one is, the more fat that pushes through the grid. The reason why liposuction, creams, injections or even diet and exercise haven't become the universal cure for dimples and bumps, is because they don't address the actual cause: fascia.
"It's not that researchers, doctors and skin experts haven't found help for cellulite," explains Black. "It's just that we've been looking at the wrong thing."
Dr. Chaudhari weighs in, stating, "The FasciaBlaster™ tool helps to break up the abnormalities of scarring within the fascia and releasing it, so the body can now take its natural shape."
Black is excited that in the FasciaBlaster™, she's created a simple little tool that can "help women with cellulite and introduce the world to how healthy fascia can make for a better overall health paradigm."
About Ashley Black
Ashley Black, founded FasciAnatomy™ in 1999, and is a renowned expert on the subject of fascia. After a flesh-eating bone disease left her disabled, she healed herself using self-treatments, and has devoted her life to helping clients and training practitioners worldwide. While her clients include celebrities, billionaires, and professional athletes, Black is on a mission to get her knowledge into the hands of everyday people. Her invention, the FasciaBlaster™, is an effective means of treating many common health issues, including pinched nerves, migraines, plantar fasciitis, arthritis, tendonitis, shin splints, carpal tunnel, cellulite, shoulder pain, sports performance, posture, flexibility, stress, sleep problems, strained muscles, entrapped fat, inflammation, and tennis elbow. Her website contains interesting content from the fascia perspective pertaining to virtually any topic concerning the human body.